Fences along Mexico US border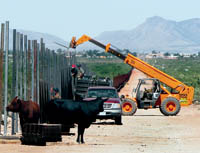 The dispute over expanding fences along the Mexico-us border seems to be headed towards a crisis. Mexican environmental officials recently said they would drag the us to the International Court of Justice if it did not drop its fencing plans. Their objections are based on fears of harm to wildlife and ecology. "This barrier would place at risk the various ecosystems that we share,' said Mexico's environment minister Juan Rafael Elvira.

The proposed fencing, along 1,125 km of the border, was to be put up to check illegal immigration into the us, a long-standing dispute between the two countries. Mexicans say it would pass through Baja California, Sonora and Arizona, an important desert ecosystem, and isolate border animals into smaller groups.

They asked for ways to minimise environmental damage, including "green corridors' of wilderness or "live' fences of cactuses, or permeable barriers to allow water, insects and pollen to cross the border.