A Gujjar s tale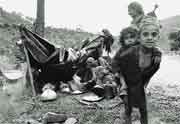 it was a plea from the heart, but the Minister's portfolio specified a different agenda. Saifuddin Soz, the minister for forests, was prepared to deal with pleas to save trees and wildlife. Face to face with one of the casualties of his ministry's conservationist policies, he fumbled for a reply. A suitable answer to his dilemma lay in Community Forest Manage-ment in Protected Areas , the book he had come to release if he chose to read it.

The Van Gujjars, nomadic, forest-dwelling pastoralists from north Uttar Pradesh, today symbolise the tragedy of man's alienation from the environment. When the Ministry of Environment and Forests ( mef ) decided in 1985 to declare their home a 'pristine' National Park, they were asked to move out to make way. They refused.

Since then, the Gujjars have been fighting off mef officials, who charge at them ever so often brandishing laws from the anti-people Wildlife (Protection) Act of India. Twelve years since they set about trying to explain to the forest department of Uttar Pradesh that they can co-exist with wildlife, they have brought out their proposal in writing. Community Forest Manage-ment in Protected Areas is their blue print for a sym-biotic relationship between the Gujjar and wildlife.

Unlike the functioning of the present forest bureau-cracy, the Gujjars' plan encourages flexibility and transparency in the management of the park. According to the plan, each settlement, or khol , in the forest would have a khol committee to take decisions on grazing, fodder use, regeneration, fire control and protection.

Representatives from all the khol committees would get together to form the range panchayats , which will be responsible for the relationship between various khol committees . Co-ordination between ranges would be facilitated by a sanctuary committee. A separate range committee would provide a forum for discussing conservation and land use issues with other district level agencies.

Though the plan needs a go-ahead from the mef before it can be implemen-ted, the Gujjars, and members of a local ngo called Rural Litigation and Entitlement Kendra ( rlek ), are confident of making it work, with or without permission. "Nobody can stop citizens from fulfilling their duty in saving the environment," says rlek chairperson Avdhash Kaushal.

According to Kaushal, the Gujjars are already equipped to do a better job of what they have always done protect the forest. " rlek has provided them with more walkie talkie sets than the forest department has," he says. "If they find a poa-cher killing wildlife or felling a tree, they have instructions to first inform the wildlife authorities. If they do not get a response, they deal with the situation themselves."

The book, Community Forest Management in Protected Areas , is cumbersome reading, but is a landmark in the history of conservation. It is the collective voice of a community which has taken on the responsibi-lity of saving their environment with a lot more gusto than their apathetic urban counterparts, who try to dictate terms to them from their own degraded habitat.
Related Content