Mexico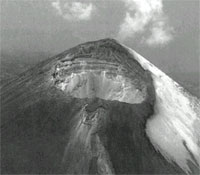 Confused reporting by emergency officials about the extent of danger and inadequate disaster management, brought to light official apathy recently in Mexico City, as the volcano Popocatepetl, spewed a giant cloud of ash over the city. High ranking officials denied that they issued a red alert that the volcano may erupt and cause havoc to life and property. Mexico City is situated on the fringes of the 5,500 metre-high Popocatepetl or El Popo, as the volcano is locally known.

Fear and confusion reigned among the 18 million inhabitants of Mexico City, who were taken unawares by blankets of black ash sodden with rain, falling across the metropolitan area. The sand-like ash clogged car windscreens on streets from the city's north to south as visibility dropped and roads became slippery.

Mexico City residents from different parts of the metropolis complained of burning sensation in the eyes and an acrid smell of sulphur.As burning rocks rained down the volcano's flanks, 30 villages were ordered to be evacuated. A cloud of ash blew as far as Veracruz, a port about 290 km to the city's east. "For an active volcano, it is always preferable to have constant energy releasing events rather than long periods of accumulation of gas and pressure," said Servando de la Cruz, a scientist at Mexico's National Center for Disaster Preven-tion. He said that although thought to be dormant and harmless, El Popo's core was still dangerously volatile.
Related Content