At home, almost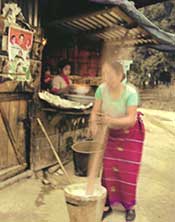 Manori Rabha lived at a distance of Rs 5 from river Brahmaptura. That is what the local bus would take to drop her at the banks of the river when it was not flooded. When the river did flood, like it does each year in Assam, it would reach her doorstep. And soon overrun her house in Lakhimpur district. This was 19 years ago. Now she is in Arunachal Pradesh. A small township called Hapoli in Lower Subansiri district. It's at the heart of the Apatani tribe's plateau, hundreds of kilometres away from her original house high up in the hills unlike her village. Rs 540 away, she corrects. Money, for her, is the best, most tangible, measure of the distance between her or other places and her original village.

Almost two decades later, in her thirties, almost at home in Hapoli, a five-by-eight feet roadside tea kiosk is the nucleus of her adopted world. At a rent of Rs 200 per month. There is also the house rent of Rs 350 to take care of. She sells tea, but more than that she serves fresh hot pitha, a steamed-rice dish that people in Assam relish. Why at Hapoli?

She has two answers, an economic justification and a social reason, ready. "I am a Rabha, a tribal from Assam and these are Apatani, they too are tribals. We are different in so many ways yet our sense of the world is still similar,' is the social construct that helps her stay put. "The plateau and its Apatani people are relatively rich tribals, so a lot of labour from elsewhere comes to work here, many from Assam. I can sell pitha to them, that keeps them addicted to my shop.'

Each evening casual labour walks in, except days when a bandh is called, which can get quite frequent at times. They huddle at her shop while she steams rice cakes peppered inside with cumin seeds. "It isn't the best of rice for pitha, a local variety.' But, the shawl she weaves to sell at Rs 350-400 is with threads from Assam. "I have gone up to Katihar (the last big station in West Bengal on way to the northeast by train) to sell these. I should be going down again soon, at least down to my home.'

She has it all worked out, almost. In two months she shall have saved Rs 3,000. She needs just one to make the journey. "I shall get a maid for one of the magistrates in Dhemaji (an Assam district quite close by). I have promised him I'll take Rs 8,000. Give the girl's parents four and save about three in all.' Net profit gleams in her eyes as she doles out a free pitha. Gleeful at even the idea of travelling, she breaks into poetry, but realising the audience cannot pick up her language, uses phrases in Hindi to explain, using them almost like punctuation marks. When deciphered: "Scar tissues on my soul and sweat flowers etched by the sun on my back, as I walk back the blue pine forests on this flat land.' But the mellifluous mood doesn't last long.

She remembers, "I have to pay Rs 500 for wood this month. Had taken wood worth Rs 1,000 on paying half up front. You know, when I used to get saw-wood from the nearby sawmill life was so easy, but now it's shut.' Rs 500. She mulls over it a lot as she begins the elaborate process of shutting the shop.

"Don't talk to her at this time, she is the most irritable when shutting shop,' her eleven-year old son whispers, jocularly. Its meant to be overheard.

She overhears it. "I am, this is the time I remember all the people I have to pay back. In the day I think of eating chicken two times a week because I have to work at least 10 years more to see my family settled. At night I think of eating a meal a day to pay off the debts. In the day I think of travelling down this year, while shutting shop I think of postponing my travel to the next one.'

19 years. She has been home four times. But there isn't a day she does not redesign her travel plans. There isn't a day when she doesn't resign to the wistful statement her second child, a fourteen-year-old daughter, regularly makes fun of: "I am lucky, I save for my children (she has three, two in Arunachal and the eldest daughter back home in Assam). I have a post office deposit account in these two kids' names here. I just wish I could have another in my eldest daughter's name in Assam. But they told me the post office got washed away in the last floods.'

"Its an excuse, so what if the post office gets washed away each year, as if she has the money to deposit,' provokes her son. One can't make out why he does so. Anger? Disgust, despair, fun? Or just to close the conversation?
Related Content