Welcome to cyber city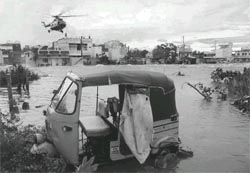 flash floods have not only swamped many areas of Andhra Pradesh, it has also left many questioning the effectiveness of the state government in handling disasters, let alone drafting a preparedness plan. The state administration could do little to undo the mess.

Incessant rains lashed the cyber state in the second week of August, which continued for another week. It recorded a rainfall of 24 cm in August 24. By the end of it, three-fourths of Hyderabad was inundated, more than 150 lives were already lost, and thousands rendered homeless.

The rainfall led to the inundation of as many as 110 low-lying localities. About 500 minor irrigation projects and panchayat tanks were breached. On the whole, around 412 roads were cut off, even the Chennai-Calcutta highway was breached at certain points.

Net-savvy chief minister Chandrababu Naidu was quick to blame meteorologists for failing to predict the heavy monsoon showers. C V V Bhadram, director of the meteorological department, however, refuted the chief minister's accusation.

In Hyderabad, the government was criticised for allowing encroachments on open land in the path of streams that drain into the Hussain Sagar Lake. Former special officer of the Municipal Corporation of Hyderabad Narender Luther said: "Large-scale illegal construction, encroachment of river and tank beds, choking of drainage were the main causes for the flood.'

To prevent further encroachment, Naidu suggested construction of a bund (embankment) around Hussainsagar Lake. But this only makes the situation worse. Embankments do not necessarily work over a period of time. In fact, they encourage human occupation of the flood plains by installing a false sense of security. When rivers in spate breach the embankments, a tidal wave hits the villages nearby.