Bisephanol A in feeding bottles raises scare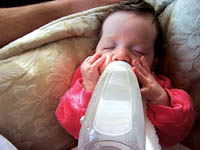 Parents should have some afterthought before using hard transparent plastic bottles for feeding their babies. A panel of scientists has warned that such polycarbonated plastic bottles contain the chemical bisephanol A, which could be causing neural and behavioural disorders in children.

The panel, consisting of government, university and industry scientists, was convened by the National Toxicology Program's Center for the Evaluation of Risks to Human Reproduction, usa, to evaluate bisphenol A. The chemical is known to mimic the effects of the natural female sex hormone oestrogen. It is commonly used in hard plastic baby bottles, water containers, soft drink bottles and microwave dishes. After assessing more than 500 studies, the panel confirmed that the chemical can leach out of containers and contaminate the food. Though it did not call for a ban on the chemical, the panel expressed concern as exposure in the womb causes neural and behavioural defects.