Sapping structures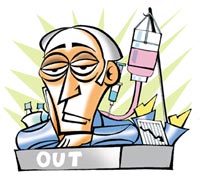 Do you feel too run down at the end of your workday? Welcome to the sick building syndrome (sbs). Ill-ventilated and badly planned workplaces are causing office-workers physical problems such as headaches, nausea, fatigue and respiratory disorders to name just a few.

Recent energy audits by the Tata Energy Research Institute in seven software companies in Bangalore have identified centralised air-conditioning as one of the main causes of sbs. The study has found that in the closed environment of the modern office, oxygen levels decrease as the day progresses, with a corresponding rise in the level of carbon dioxide.

Surveys reveal that many offices accord low priority to maintenance. A British Broadcasting Corporation (bbc) documentary some years ago identified dirty or damp carpeting and upholstery, faulty ventilation and the growth of bacteria and viruses in ventilation ducts as some of the major causes of indoor pollution. In confined office space, employees easily contract infectious diseases from their co-workers. The bbc documentary also revealed that improved sanitation in workplaces led to increased productivity besides better health of employees.
Related Content