One up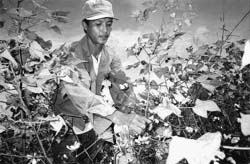 in the recently-concluded World Trade Organisation meet in Seattle, usa, countries fought over a variety of trade-related issues, including genetically-modified (gm) foods. Ironically, a few days before the meet, one of the biggest manufacturers of gm foods, Monsanto, won an important court case in uk.

Monsanto, a us-based biotech company, received a shot in the arm when environmental activists of the uk-based GenetiX Snowball recently lost their bid to debate the rights and wrongs of gm crops in open court. Reversing a previous London high court ruling, the Court of Appeal granted Monsanto a permanent injunction against six members of the group. The ruling permanently bans GenetiX Snowball from interfering with Monsanto's crop trials. The activists of the non-governmental organisation had destroyed crops grown for trial by Monsanto. GenetiX is supposed to be a campaign of non-violent civil responsibility that aims to build active resistance to gm technology which is unwanted, unnecessary, unsafe and irreversible.

GenetiX's defence was based upon an argument that their acts resulting in damage and destruction of other people's property are justified in public interest. However, this is not about the commercialisation of gm crops or whether government sponsored trials should go ahead. The issue is simply whether protest groups should be allowed to damage and destroy other people's property in the name of their particular cause, says a press release by Monsanto.

However, Geneti x is undeterred by this reversal of fortune. The group has vowed to take the case to the House of Lords, the uk upper chamber of Parliament and European Court of Justice. Understandably, company officials welcomed the news and said that having won the legal argument on the right to stage the trials they would pursue the campaigners for costs.

Replying to a query by Down To Earth , Jo Hamilton, a member of the group said, "Our court case, which we recently lost, is an example of the privatisation of the justice system in the uk. Monsanto used Strategic Lawsuits Against Public Participation (slapps) to silence protestors. We did hope that the judges might see that we could have a public interest defence but the precedents in law do not have any provision for this so far. We will be appealing against the verdict in the European courts, as this could set a precedent for other companies to use. Although we wanted to win, we were not surprised that the ruling went against us.'

While some of the concerns are justified, a number of groups have gone overboard. In India, too, issues have been mixed up. "Most reactions of non-governmental organisations are based on emotion rather than reality,' said P Balakrishna of the M S Swaminathan Research Foundation, Chennai, in an earlier interview to Down To Earth .

In Karnataka, Rajya Raitha Sangh, a militant farmers' union, had resorted to violent means and set fire to the trial fields. "The ultimate loser in this battle will be the science of biotechnology, which has the potential to solve a lot of problems faced by the Indian farmers. But while introducing any technology we must keep the interests of our farmers in mind,' says Indira Khurana of the Centre for Science and Environment.

Some experts believe that the anti- gm lobby fails to understand that the technology can feed the world's poor and campaigns by environmentalists are flawed. Julian Morris, director of the environment unit at the Institute of Economic Affairs, in an article in Financial Times writes: "A new variety of rice developed by Ingo Potrykus of the Swiss Federal Institute of Technology in Zurich, uses genes from daffodils and a bacterium called Erwinia uredovora. This can alleviate Vitamin A deficiency in poor children. It is a product of genetic modification. Following their campaign against gmos in Europe, environmentalists see control of trade in gmos in Europe as the next step on the road to a gm-free world. In doing so, they have proved themselves to be elitist and dogmatic, extending their middleclass prejudices into territories inhabited by people whose priorities are fundamentally different. '

"gmos are not magic solutions to the problem of poverty, but they can certainly help alleviate some of its effects. The environmentalist campaign against trade in gmos is misconceived. If it is successful, it will harm the poorest people in the world,' he adds.
Related Content