Mumbai panics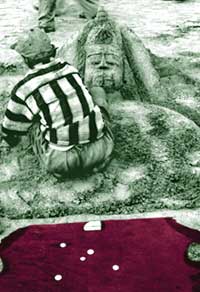 September 9, 2005. Panic gripped Mumbai, again. Within 24 hours the city received more than 200 mm rain. It started pouring heavily in the morning. By 11 am the unrelenting downpour caused traffic jams. Not leaving anything to chance, the state government issued a rain alert. With Terrible Tuesday (July 26) fresh in mind, people left offices. Schools were shut down. As everyone came on to the roads, or headed towards local train stations, the Bandra-Mahim highway, a major intersection joining suburbs with the island city, was chock-a-block with traffic. Within an hour or so of rain, low-lying areas like Kurla, Sion, Mahim, Dadar, Andheri, Goregaon and Bandra East were flooded. To avoid another public backlash, the state government evacuated close to 300 families. The infamous Air India colony of Kalina once again went under water. Services on Central Railway were suspended for about 3 hours.

It is September 10 today, and the rain has still not relented. Most low-lying areas remain flooded and trains are running late. It is a holiday today and tomorrow, and people themselves are taking precautions not to venture out unless it's unavoidable. They know banking upon the government can be suicidal. Once bitten, twice shy!
Way out
"First and foremost we need to protect Mumbai's natural drainage system and implement the crz regulations that restrict construction activities. fsi restrictions within crz ii zone should be strictly adhered to, and the 1991 crz rules implemented in their totality including the clause for a buffer zone. Projects such as bkc should not be cleared. Also there should be a check on permitting buildings that are constructed by blasting hiils,' says Samant. "Rivers must not be channelised or forced to change course at the whim of a project,' he adds.

Raut agrees. He wants the remaining mangroves to be granted the status of protected forests: "Mangroves are more efficient in cleaning up Mumbai's sewage than the present expensive sewage treatment plants.'

What most experts agree with is that Mumbai needs to arrest its population growth. Sharma of tiss points out why :

• mmr's population will rise to 22.4 million by 2011.

• Gross water demand for the region in 2011 will be 7,959 million litres daily (mld) as against the present supply of 3,922 mld.

• By 2011, private vehicles will be more than double their 1991 levels.

• Peak period passenger trips will increase from 21.55 lakh in 1991 to 32.6 lakh in 2011, with public transport accounting for 85 per cent of the trips.

Kapil Gupta of iit Bombay agrees and says, "Bringing in more water will mean more wastewater problems.' " mcgm is unable to handle the present amount of wastewater, with 40 per cent of Mumbai still not sewered. How logical is it to generate more sewage?' he questions.

Various authorities/committees and fact-finding teams have been set up to revive Mithi river, but the recommendations of none are binding upon the government. So will they be of any help?

There are also discussions on getting rid of the present cement mania. Almost the entire city is cemented and no way can the water seep into the ground. Parts of Mumbai are already facing a saline ingress. Hence, it is important that water percolates into the ground and recharges the groundwater. For this porous building blocks could be used. Gupta claims that such blocks are used in most industrialised countries.
Protect open spaces
Mumbai needs to desperately protect its fast-dwindling open spaces. "Not only do these open spaces act as city lungs, but they are also holding ponds during heavy rainfall. Saltpan lands, which the state government wishes to open for construction activities serve exactly the same purpose and should be retained,' says Samant. He accepts that reclamation is required, but says it should be done with care. "Reclamation can be done by either joining the low-lying islands or from the sea. Sea reclamation, though easy, is more expensive. First and foremost, wave patterns need to be studied and reclamation should be done in such a manner that the wave attack is not straight. Enough barriers should be put at the shore to absorb wave shocks.'

Land-use maps need to be prepared with local people's participation. "Most people do not even know the land-use plan of their area. Hence, politicians and builders get these plots reserved or dereserved keeping in mind the market conditions,' says Krishnan. Other angry Mumbaikars suggest non-payment of taxes (worth Rs 58,000 crore a year) to the Centre; some even demand a separate state. They claim that Mumbai's residents should have the right to elect their chief minister, so that there is some accountability.

But, there are hardly any public protests. It is this chalta hai attitude Mumbai needs to jettison. Hopefully, July 26
Related Content