Human greed compounds nature`s tragedy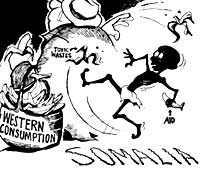 THE TRAGEDY of Somalia, whose people are starving to death by the hundreds each day, is being worsened by pitiless warlords who have reportedly signed multimillion-dollar contracts with Swiss and Italian firms to use the East African country as a dumping ground for vast quantities of toxic wastes. The UN Environment Programme (UNEP) warns that at least one million tonnes of such wastes may be dumped in Somalia before the end of this year.

Both the Swiss and the Italian governments have ordered investigations, stung by a statement by UNEP executive director Mostafa K Tolba that "Italian and Swiss firms trading in hazardous wastes entered into a contract with an individual named Nur Elmy Osman, who describes himself as the Minister of Health of the Republic of Somalia." Osman is known to be an aide to Ali Mahdi Mohammed, one of Somalia's many warlords, who controls part of the capital Mogadishu and the area to the north of the war-ravaged city. Ali Mahdi, however, disclaimed any knowledge of waste dumping and denied that Osman held a ministerial position in his self-proclaimed government.

The contract, Tolba said, allows for the export of various types of waste to Somalia for 20 years beginning 1991. He estimated "the value of the current phase of the contract is believed to be in the order of US $80 million." A total of 500,000 tonnes of waste may be dumped each year, with 10 million tonnes been dumped in landfills.

Though Tolba did not name the companies involved, saying he wished to protect his sources, Greenpeace activists in Rome identified Progresso of Livorno as the company behind the murky arrangements involving a Swiss-based front company and Somali warlords. But Progresso managing director Marcello Giannoni insisted that his company was not involved though he conceded that he had witnessed the signing in a Rome hotel in October last year of a letter of intent for the waste dumping concession.

Meanwhile, Swiss Greenpeace official Stefan Weber alleged that Italian ships have been used in the past to carry toxic wastes to African countries rendered helpless by internal strife. In 1988, Ghana was involved in such a scandal and Ethiopia, at the height of its civil war. African countries have voiced their increasing disenchantment with the Basle Convention on the control of the trans-boundary movement of hazardous wastes and their disposal. They prefer instead the Bamako Convention, a regional accord within African nations, which sets a complete ban on trans-boundary movement and point out that the Basle Convention -- whose name is ironic considering that Swiss firms are alleged to be behind the latest Somali dumping scandal -- contains loopholes that the unscrupulous can exploit.

Attempts to use strife-torn African nations as dumping grounds for toxic wastes by signing contracts with native warlords and dictators has aroused much concern. Prominent personalities such as UN Secretary General Boutros Boutros-Ghali and Nigerian Nobel Laureate Wole Soyinka have both pointed out that the West is inordinately preoccupied with the fighting in erstwhile Yugoslavia and this was at the expense of help to Somalia's starving population of 6.5 million. In a recent article, Soyinka noted, "UN Secretary General's recent rebuke of the Western European attitude of virtually ignoring the horror in Somalia is neither an attempted dismissal of the very real agony of Yugoslavia nor a plea to revise the current system of priorities. What the Secretary General clearly rejects, like many of us in the Third World, is any double standard in the arrangement of conscience, which seems to operate sincerely in the rich European world but only on a token level in Africa and elsewhere."

Such comments have prompted a reawakening in the West to the Somali tragedy and of late, shipments of food aid have been rushed by air and sea to feed Somalia's starving people. But the Somali Peace and Resettlement Organisation, based in exile, has warned that no amount of food relief delivered by the international community could effectively ease the suffering and save the lives of the Somali people if lethal toxic wastes and poisons were dumped in the country.