Non starters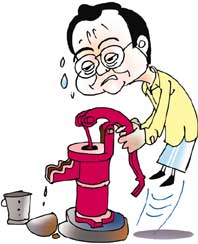 Several critical programmes for groundwater recharge, micro-irrigation and rainfed agriculture failed to take off. The Central Ground Water Board (cgwb) recently estimated that 58 per cent of the total available groundwater is exploited as compared to 37 per cent in 1998.
NSAR
National scheme for artificial recharge : It's done the rounds of mowr, the Planning Commission and the cabinet committee of economic affairs (ccea). But nsar is heading nowhere. "During the ninth plan, 165 demonstration schemes with different region-specific structures were constructed in 27 states. Another 12 projects are nearing completion,' says R C Jain, superintending hydrogeologist at the Central Ground Water Authority (cgwa).

"Based on previous experiences, a Rs 20,000-crore national perspective plan for artificial recharge in rural areas was formulated,' Jain says. Construction of 37,000 percolation tanks, 110,000 checkdams, 48,000 recharge shafts/dugwells, and 26,000 gully plugs was planned. In December 2004, mowr scaled this down to a ridiculous Rs 175 crore, for creating 5,088 groundwater recharge structures across India. "The objective was to extend the pilot programmes carried out during eight and ninth plan,' says Jain. The Parliamentary Standing Committee on Water Resources (scwr), in December 2005, came down heavily on mowr for its lackadaisical approach in getting nsar cleared by ccea. It turns out mowr withdrew the scheme from ccea after the Planning Commission cleared it. It is expected the scheme will resurface in the eleventh plan.

"Why do we need more demonstration projects? Has the time not come to consolidate and upscale the learning from different projects?' asks Vaidyanathan. The rejigged plan overlooked the time-tested system of recharging through dugwells. "With a filter to arrest silt, dug well recharging is very effective,' Jain agrees. As per mowr's 2005 third census of minor irrigation schemes, of the 18.5 million wells in the country, more than half are dug wells, of which almost eight million belong to individual farmers. 415,000 dugwells in the country have dried up.

Experts blame the cgwb technocrats who draw up a plan without consulting or understanding the experience of thousands of projects across India. Villagers in Gujarat, Maharashtra, Madhya Pradesh and Rajasthan have already demonstrated the impact of the dugwell approach.

Officials assure rainwater harvesting and artificial recharge are components of the upcoming National Rural Employment Programme (nreg). The Planning Commission has approved a cgwa concept note on the recharge component in nreg. Of the 200 most backward districts in India, it finds only 17 districts suitable for recharging.
Policy vacuum
The critical policy challenge in water is the creation of a single administrative ministry for water. There is a need to integrate the interests of different ministries. In December 2002, t he National Development Council had suggested the need to bring all water issues under one ministry. Besides mowr, Union ministries of rural development, agriculture, urban development and poverty alleviation, and environment and forests have a say in water schemes.

The government has failed to constitute the National Water Resources Programme Coordination Committee (nwrpc) under a Planning Commission member (agriculture and water resources), as suggested in the tenth plan. scwr has already issued an ultimatum regarding the same.

Vaidyanathan, though, points at a problem: "When source and use are different, single ministry will be a tough proposition. It is an option worth considering. But we must ensure integration at the river basin level.' Giving the example of the wro in Tamil Nadu, Vaidyanathan says: " wro is there just for name's sake. With out a functional notion, unification will be of no use'.
NRFAA
National Rainfed Area Authority: The prime minister announced nrfaa in his 2005 Independence Day speech. Five months on, it hasn't been constituted. nrfaa was mooted as a solution for the problems of nearly two-thirds of India's cultivable area, which is rainfed.

"Watershed programmes today are implemented by the ministries of rural development, agriculture, environment and forests, the Planning Commission, and externally funded projects. There have been considerable divergences and overlaps amongst various projects, let alone any fruitful linkages and synergies among the programmes and projects,' says the commission's backgrounder on nrfaa . Implementing agencies lack not just technical expertise but also skills of community mobilisation.

nrfaa will be a quasi-government body to manage Centrally funded watershed programmes. Its objective will be to provide safe drinking water, sustainable livelihoods, and drought proofing by 2020. At this point it is not clear as to what all programmes will be brought under the nrfaa . This authority can work wonders if it can integrate not only the watershed programmes but also agricultural extension and micro-irrigation programmes that aim to achieve efficiency in water use. A brainstorming session is scheduled to happen on February 15 on this authority.
Related Content