A disease on the rise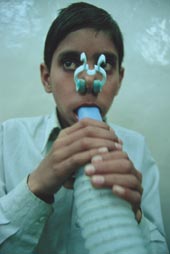 The WHO estimates that between 100 and 150 million people around the globe have asthma and the figure is increasing. Over 180,000 people die worldwide each year due to asthma. India has an estimated 15-20 million asthmatics.

Belgium's UCB Institute of Allergy estimates that asthma has doubled in Western Europe in ten years.

In the US, the number of asthmatics has increased by over 60 per cent since the 1980s and deaths have doubled to 5,000 each year. The National Heart, Lung, and Blood Institute of USA says that the prevalence of asthma around the world has doubled in the last 15 years. In the absence of a nation-wide study, data collected from certain cities can give an idea about the incidence of asthma in India.

A questionnaire-based study by Vallabhbhai Patel Chest Institute in nine randomly selected Delhi schools found asthma in 11.9 per cent of the students. The actual figure could be higher because the disease is generally undiagnosed.

A study in Chennai found that overall prevalence of breathing difficulty was 18 per cent and the prevalence of diagnosed asthma was 5 per cent.

A study in Mumbai found 3.5 per cent of the people had asthma based on a doctor's diagnosis and 17 per cent on the basis of standard definition. Coming to villages, as many as 2.6 per cent of children between 1 to 15 years of age had asthma, says a study done in five villages of Dehlon block in Ludhiana.

"Asthma is definitely increasing in both urban and rural areas. In urban areas, this increase is seen because of a rise in the number of industries, number of automobiles and their emissions, density of population and overcrowding of houses. All these lead to poor indoor air quality,' says H Paramesh, a Bangalore-based lung specialist and director of Lakeside Medical Centre and Hospital.

For the first time in the country, the Indian Council of Medical Research is doing a study on the disease in Kanpur, Chandigarh, Delhi and Bangalore.
More at risk
Children living in single-room houses in Bangalore are more likely to get respiratory infections and asthma, a study done by Paramesh has found. As many as 67 per cent of the children living in single-room houses had respiratory infections but only 37 per cent of children living in houses with two or more rooms had respiratory infections.

"Poor families cannot prevent asthma. The risk is even at their homes,' says Asha Benakappa, associate professor of paediatrics, Bangalore Medical College. Poor children risk asthma from their parents' work place: those of construction workers breathe dust and those living near small-scale industries take in fumes.

Yamuna Pushta and Sangam Vihar are the worst places for Sabina and Arti to live but they can't escape. Sabina's father drives his rickshaw in Daryaganj, near Pushta, and Okhla, near Arti's home, is where her mother works. Asthmatic children from poor families have disproportionately high rates of hospitalisations, emergency department visits, disability and deaths, says a study by M J Federico and A H Liu of Children's Hospital, Denver, USA. "A child might become immune to pathogens but not to allergies or triggers,' says Randeep Guleria, lung specialist at the department of medicine, AIIMS.
It's in the air
Pollution and asthma are linked, several studies done in India and around the world have shown. Delhi's polluted air is responsible for a 41 per cent increase in asthma cases and a 39 per cent rise in chronic bronchitis, says a study by J N Pande, a former professor of medicine at AIIMS. The figures were established by correlating the amount of pollutants in the air with the number of emergency room admissions on particular days. More people were admitted to emergency on days when total suspended particulate matter and carbon monoxide was high in the air. Similarly, asthma in Bangalore increased from 9 per cent in 1979 to 29.5 per cent in 1999, says Paramesh's study. During this period, the number of industries in the cities increased from 4,700 to 40,146 and the number of vehicles from 1.46 lakh to 12.23 lakh.

In Arizona, USA, asthma deaths in 1999 increased by 10 per cent on days with average pollution as compared to those on clear days. On the worst polluted day of that year, asthma deaths jumped to 40 per cent and asthma attacks increased by 36 per cent. Hospitalisation rates were more than 20 times high in New York's poor neighbourhoods as compared to wealthier areas, said a law suit filed last year against the city's and state officials. Nearly 40 per cent of children in the city's homeless shelters suffer from asthma, said the petition, filed in behalf of four asthmatic children. In response to the suit, the court asked city and state officials to improve the health care system for poor children.
Govts paying the price
Worldwide, asthma is putting a burden on countries. Direct and indirectly, the US spends more than US $6 billion on asthma. The average cost of treating asthmatic children in that country is US $3.2 billion. Britain spends about US $1.8 billion on health care for asthma and because of days lost through illness, WHO estimates. In Australia, annual direct and indirect medical costs associated with asthma reach almost US $460 million. In Malaysia, the average monthly cost for treating children is US $15.56.

The cost India is paying for asthma is not known, but we know that people are paying a lot. Asthma can't be cured but the pollution that triggers it can be. Sabina, Arti and Bharat need clean environments. Their backyards will be factories, congested colonies and dusty roads. A bit more breathing space for children like them and India would have made a start in controlling asthma.

With inputs from Ramya Vishwanath in Bangalore
Related Content