Dying wetlands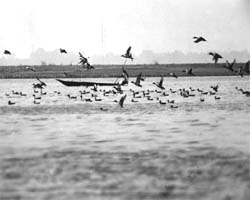 a survey conducted by the Assam Remote Sensing Application Centre (arsac), Guwahati, and the Space Research Centre, Ahemdabad, has revealed that 1,367 out of 3,513 wetlands in Assam are under severe threat due to the invasion of aquatic weeds and other developmental activities.

"Our wetlands have turned into wastelands and majority of them are in a dying state," claims D C Goswami, head of department of environmental sciences at Gauhati University. These endangered wetlands face a bleak future because of human interfernce with the wetland ecosystem and negligence of authorities concerned.

According to the Ramsar Convention, wetlands are defined as "areas of marsh, fen, peatland, or water, whether natural or artificial, permanent or temporary, with water that is static or flowing, fresh, brackish or salt, including areas of marine water the depth of which at low tide does not exceed six metres."

The wetlands of Assam form the greatest potential source of income for the state in terms of fishery and tourism. In spite of this, these are being neglected by the authorities. "They will only be documents in offices," warns Goswami. To make matters worse, these wetlands fall under the jurisdiction of several departments like revenue, forest, fishery and irrigation to name a few, so there is little possibility of coordination.

The wetlands have to be preserved because they are the reservoirs of many migratory birds, mammals, fish, amphibians and reptiles, and many plant species. According to the World Wide Fund for Nature-India (wwf), they help to store water, offer protection from storms, mitigate floods, control erosion and stabilise local climatic conditions. But they are the world's most threatened places as a result of ongoing drainage, land reclamation, pollution and overexploitation of resources. Anuriddha Choudhary, honorary chief executive of Rhino Foundation for Nature in the Northeast India, a non-governmental organisation (ngo), says, "none of the wetlands in Assam are protected apart from the ones in Kaziranga."

"Though lakhs of villagers are dependant on them, they do not make an effort to protect them," says Choudhary. "They do not protest if people dump garbage into them," he adds. Local ngos are making efforts to make the villagers more aware of the threats to the wetlands.

According to the Compendium Workshop on development of beel fishery in Assam, a book published by the Assam Agricultural University, one hectare of wetland in Assam can produce as much as 100 kg of fish per year in its natural condition, unlike other wetlands that produce only 75 kg of fish per hectare per year. "With the aid of developmental measures, Assam can produce up to 5,000 kg of fish per hectare per year and this could feed the entire northeast," says Pradip Sharma, who is with the Cotton College, Guwahati. "No other wetland in India produces this amount of fish,"he says. Negligence and mismanagement has resulted in the need for importing 20,000 tonnes of fish to meet the demands, he adds.

Authorities are numb to all the voices of concern. "We have written a number of letters to the government, but there has been no reply," says Goswami. When a Down To Earth reporter inquired at the office of the Principal Chief Conservator of Forest in Guwahati, a person who claimed to be a official, rudely remarked, "What is a wetland? Please spell it out?"

Though a wetland management committee has been set up, "this has not even started to function," says Goswami.
Related Content