Look before you leap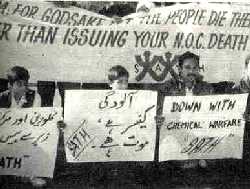 an amendment to the Danish law of environmental protection stipulates as of June, 1996, that foreign countries about to buy shut-down and potentially dangerous industrial plants, must receive full information about their environmental consequences. The law does not ban the transfer of such technology. It merely stipulates that authorities in the importing countries be given a thorough report of the environmental difficulties caused by such plants in Denmark. ngos in the importing country will also receive copies of the report. The new regulation is the result of a controversial incident in 1994, when a shut down chlorine alkali plant, Soyakagen, was to be exported from Denmark to Pakistan. Once the actual nature of the plant became known to the public, the planned transfer sparked protests in Denmark as well as in Pakistan. The buyer was a Pakistani firm, Ravi Alkali Limited.

"Ravi Alkali was offered the plant for about 20 per cent less than the market price of a new one," said Janus Hillgaard of Greenpeace, Denmark. He adds that the Danish owner of the plant, D S Industries, was faced with a bill amounting to us $200 million, to clean up the water and soil at the former site in central Copenhagen. In addition, D S Industries had to facilitate an expensive scrapping of the plant. "To save some of the expenses on the scrapping and earn a little extra, D S Industries made the Pakistani buyer an offer they could not refuse," said Hillgaard.

Soyakagen was the cause for 50 tonnes of mercury pollution in Copenhagen harbour. There had occurred several major accidents with discharges of chlorine gases, and for 20 years, inhabitants of the factory's densely populated neighbourhood had protested against the plant, which was finally closed down in 1991.

None of this was known to the Pakistani authorities. They were simply assured by the buyer that the plant would be perfectly safe to import. But on receipt of information from Greenpeace, the Pakistani ngo , Sustainable Development Policy Institute, put pressure on the Pakistani Senate and the deal on the mercury cell production units was eventually called off in late 1994.

Meanwhile, the Paris Commission has agreed to phase out mercury cell technology by the year 2010. This means that 200-300 chlorine-producing plants are about to be scrapped or exported. But it is only Denmark which has so far legislated on some environmentally-acceptable rules for the game. Similar actions are under discussion within the Nordic Council - an intergovernmental body of Nordic countries.
Related Content