Almora`s dying waterbodies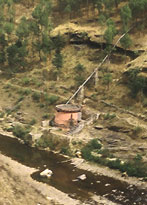 Almora in Uttranchal is facing an acute water crisis, which has been exacerbated by rapid, unplanned urban growth and the mismanagement of vital natural resources that has led to the drying up of natural sources of water. This summer, the Kosi river, one of the major sources of drinking water, may dry up, causing a crisis. What's worse is that while Almora and neighbouring villages are reeling, local hotels and resorts offer spring water in abundance to patrons by buying the land on which springs are located. This makes the crisis worse for local people.

Founded in 1563, Almora traditionally depended upon its naulas and dharas (seepages and natural springs). The area has shallow aquifers that feed its springs. But over the last 150 years the number of springs has declined from 360 to 60. Those that remain are rapidly becoming seasonal with low flows.


The present crisis is mainly the result of irresponsible growth and unplanned development. Rapid population growth, unregulated urbanisation and the intensification of agriculture are mainly responsible for the poor utilisation of water resources. Moreover, with little forest cover, a result of massive deforestation, there is high surface run-off and poor rainwater recharge. This has adversely affected the feeding of mountain springs. The natural rate of groundwater recharge is reckoned to be 31 per cent of the total annual rainfall. "The recharge status of Almora town area is only 2 per cent, however," says J S Rawat, the principal investigator of the Natural Resources Data Management System (nrdms) centre of Kumaon University.
What makes matters worse is that over time the amount of rainfall the region receives has dwindled. Annual rainfall in Almora district has fallen from 1,059 mm more than 50 years ago to 745.2 mm in 2004. This is a little above the cut-off line for drought. The usual seven-day spell of continuous rainfall, called
satjhar
, during the monsoon does not happen and dry spells have become increasingly common (see graph:
Rain, rain gone away
).
The reduction in rain and the lack of rainwater recharge of natural springs has also adversely affected the flow of river Kosi, which is virtually a trickle during summer. Summer flows in Kosi (May-June) constitute less than 4 per cent of annual flows. A stretch of 7.2 km of Kosi has completely dried up and nearly 13 perennial streams of the river system have become seasonal. The lowest summer flow of this spring-fed river reached an all-time low of 85 litres per second in June 2003, compared to 790 litres per second exactly 12 years ago. This year, the situation is more serious since the flow is expected to fall to 80 litres per second by June 2006. The Kosi could dry up within the next 12 years (see graph:
Dying river
).
No way out
Faced with a desperate situation, the government water department decided to extract groundwater by installing hand pumps along the town's main road in 2005. Most of the pumps were hastily installed and "by the end of the year, two or more of the 20 to 24 hand pumps in the town had gone completely dry", claims Rawat. "All the remaining hand pumps will run dry within the next five to seven years," he adds. Uttaranchal Jal Sansthan, the state's water authority, possesses no monitoring system to study the quantity extracted by the hand pumps. "Since most of the hand pumps are constructed along the road, villages located above and below the area do not get any water supply," says Lalit Pande, director of Uttarakhand Seva Nidhi, an Almora-based ngo.

Matters have come to such a pass largely after the people stopped taking care of the naulas and dharas . The sharing of water rationally by the community and its involvement in making sure that water sources were in good repair and spring water used with caution ended when centralised piped water supply was introduced and local people slowly became dependent on piped water. Little or no attention was paid to storing rainwater.
Project improbable
The first piped water scheme from springs was introduced in 1886 when traditional sources first began to dry up. The Baltoudi drinking water scheme, which packed up in 40 years, was soon followed by the Shail drinking water scheme, which suffered a similar fate.

The town presently gets most of its supply of drinking water from the Shahyi Devi gravitational water supply system and water from the Kosi. The British built the former in 1932 at a cost of Rs 175,000. The scheme harnessed water from seven springs originating in forests located 35 km from Almora. The forest spring-water is collected in two-metre deep tanks and then flows down to a larger storage tank at Kankar Kothi for distribution .

The Kosi river water supply scheme was started in 1948 at a cost of Rs 10 lakh. It involved pumping water to a pumping station situated 370 m above the river, which, in 2005-06, cost Rs 193.4 lakh, amounting to 70 per cent of the total annual cost of operation and maintenance. Around 8 km of pipelines then supplied treated water to 10 storage reservoirs. From there water flowed through 35 km of a piped network to consumers.

More ambitious and futuristic schemes to bring water to Almora town are on the drawing board. Peya Jal Nigam of Almora proposes to bring about eight million litres of water a day (mld) from the Saryu river at Sheraghat, some 55 km away. The proposed cost of the project is Rs 22.6 crore. The summer flow in Saryu is just 3,000 litre per second and "the small glacier which feeds it is also receding fast, and the river may dry up in 10-15 years", says Rawat.

Authorities are also excited about the possibility of tapping glacial melt from the Pindar glacier for reviving not only the Kosi but also Gagas and Ramganga for Bageshwar, Kausani and Almora towns, by laying 150 km of pipelines. The project is likely to take 15 to 20 years to complete, by which time, all alpine glaciers likely to provide melts would have vanished (see map: Pied piper).
Dry times
Given this scenario, Almora's future in terms of water supply is very bleak. The town has a population of roughly 75,000 people, a floating population of mainly tourists and 20 outlying villages for which water has to be provided. The government's water department estimates that the town needs 125 litres per capita a day (lpcd) and the surrounding villages need 70 lpcd. However, the government's piped water scheme can only provide 7.5 mld of water. Uttaranchal Jal Sansthan claims that 0.9 mld of water is wasted on account of leakages and poor distribution and that around 100 lpcd reaches urban households and 40-45 lpcd reaches the rural consumers. "But during peak summer months water is available anywhere between 10 minutes to two hours a day and sometimes there is no water for up to two days," says Pande. Peya Jal Nigam projections place Almora's demand at 15 mld of water by 2036. In the given circumstances it will be nearly impossible to provide satisfy this demand (see graph: Growing gap).
Wastewater mismanagement
Water availability is not the only problem. The quality of water is also suffering because of pollution. "Almora lacks an ecologically sound sewage disposal system," observes Pande. Some 22 km of sewage lines are currently being laid all along the main bazaar but are not operational. The system of sewage disposal in the town is outmoded and the number of septic tanks and soak pits are also inadequate, he points out. Although the municipality does not allow the construction of houses without built-in septic tanks leading to soak pits, many houses bypass laws and allow wastewater to flow through open, unlined drains into open roads and lanes creating a serious health hazard. Leaching rates are very high owing to the thin, mica-rich soil and this does not help retain water. Sewage water percolates and enters the subsoil easily, ultimately polluting the groundwater.

Unplanned construction of houses along the ridge does not allow for the prescribed 20 to 30 feet to be maintained between the soak pits and local water sources to avoid contamination.

There is no official estimate of the amount of wastewater generated in the town. Many rely on the dry toilet where nightsoil is still collected manually and then simply dumped on the slopes. The wastewater flowing out hardly reaches river Kosi or its tributary but finds its way deep into the subsoil. At present most of the naulas and dharas in and around Almora town are heavily polluted with sewage and cause serious health problems.

A four-phased plan for building a sewage network and sewage treatment plants for Almora town is being developed. According to the Peya Jal Nigam, the first phase covering Rajpura, Dhara Naula, Tripura Sundar and Baleshwar wards is nearing completion. The first and third phases of the plan are likely to cover 60-65 per cent of the town.
Urgent need
If Almora's problems are to be addressed a comprehensive plan will have to be fashioned. The authorities will have to urgently review urban planning, construction of buildings, water supply and waste management in the region. The indiscriminate destruction of the green cover and vegetation should end immediately. Waste management must also be an area of focus.

The unplanned introduction of piped water led to the distancing of communities from their original water sources. The region's water management could be decentralised again, with the local people playing an active role in the management of local resources. It is possible to harness the 312 mld of freshwater that the rains annually bring to the neighbouring hill slopes. If a minimum of 1,000 mm of rainfall is judiciously harvested annually the water problem can be solved to a great extent.

"Groundwater recharge is needed to increase summer flows in the Kosi system. This can be done by constructing series of infiltration trenches, small check dams across the Kosi and its tributaries," recommends nrdms .

A 10-m high dam at Pharka that was proposed by nrdms can impound nearly 47 lakh cubic metres of water. A five-year integrated action plan requires a budget of Rs 626 crore. "A sustainable solution can only be found when groundwater recharge work is done with active community participation. Costs can be lessened greatly if people are made the managers of projects," says Pande.

The Kumaon and Garhwal Water Act passed in 1975 advocates the protection and conservation of Himalayan water by bringing all water sources under state control, but no initiative has been taken by either Peya Jal Nigam or Jal Sansthan to protect and conserve the declining spring sources. State apathy and popular alienation are scripting a big nightmare.