Villagers in Himachal Pradesh block hydel project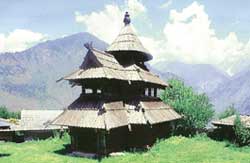 A local deity of villages in Kinnaur district of Himachal Pradesh recently ordained that the construction of a hydroelectric power project should be stopped.

Bowing to the divine importunations of Maheswar devta , the gram panchayats of Chagaon, Urni, Ula, Meeru, Punang and Choling villages denied clearance to Jaypee Karcham Hydro Corporation Limited for constructing a tunnel for the 1,000-mw hydroelectric power project. Villagers say blasting for the tunnel will cause avalanches and lead to forcible relocation.

District magistrate Amandeep Garg visited Chagaon to work out a truce between the panchayat s and the project authorities. The panchayat members, however, refused to take any decision without consulting their action committee, saying a dialogue was aborted after officials refused to engage with it.

The same villages had, in November 2005, protested against the project and refused clearance to the project.
Related Content