Tribals continue to be robbed of land in Erode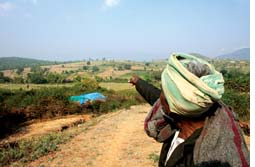 On August 28, senior police officers and forest department personnel of two contiguous districts in Tamil Nadu and Karnataka held a joint meeting to combat the growing Naxal presence in forest areas. Erode in Tamil Nadu, one of the two districts in question, had not far back been the hunting grounds of the forest brigand, Veerappan. It has also seen extensive adivasi land alienation in the last few decades. The deprivation, often cited as a reason for the brigand's adivasi support base, continues three years after Veerappan was gunned down.

"My father used to say that an adivasi without land is like a living corpse. I never thought that I would become one,' rues 75-year old Madhan of Osapalayam village. Only five of the 70 families in this village have land. "All of us had good fertile land, once. But we have been reduced to bonded labourers now,' says Madhan.

"The adivasis have to work in sugarcane farms to pay back loans.It's semi-bonded labour, but the tribals have little option. Land alienation has put paid to agriculture, their traditional livelihood option. Collecting minor forest produce became a problem after Veerappan muscled his way into forests in the area. The villages were caught in the conflict between the forest brigand and police contingents from Tamil Nadu and Karnataka,' says Madalai Selvan, director of the ngo Centre for Education and Environmental Development (ceed).
The tyranny of print "Land alienation takes place in three ways in Erode,' says Mohan Kumar of Pazhankudi Makkal Sangam, an organisation fighting for tribal rights. "In Sathyamangalam taluk, for example, there are 65 tribal villages. But people here do not have written pattas for their holdings, so it's easy to divest them of their lands. Some of them do have conditional deeds which restrict them from transferring lands to non-tribals. They also have proof of paying bheem (a tax paid to the local revenue department). But in many instances, corrupt officials transfer these deeds and revenue obligations without the knowledge of the adivasis. Thirdly, many well-to-do people from the plains have got the land through lure, coercion and sometimes forgery,' he explains.


For people of the plains, the hills in the region offer salubrious climate. "They build rest houses where they retreat during weekends. Many industrial houses have acquired lands here, turning them to farms on which they show huge profits