The global impact of e-waste: addressing the challenge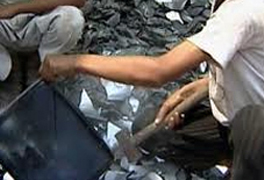 This paper by ILO explores the volume, sources and flow of e-waste, the risks it poses to e-waste workers & the environment. It also focuses on the regulatory frameworks.
Electrical and electronic waste (e-waste) is currently the largest growing waste stream. It is hazardous, complex and expensive to treat in an environmentally sound manner, and there is a general lack of legislation or enforcement surrounding it. Today, most e-waste is being discarded in the general waste stream. Of the e-waste in developed countries that is sent for recycling, 80 per cent ends up being shipped (often illegally) to developing countries to be recycled by hundreds of thousands of informal workers. Such globalization of e-waste has adverse environmental and health implications. This paper explores the volumes, sources and flows of e-waste, the risks it poses to e-waste workers and the environment, occupational safety and health issues, labour issues and regulatory frameworks, and links this growing global problem with the International Labour Organization's current and future work.
See Also
Report: The world's worst pollution problems 2012.
Feature: Enforcing e-waste rules a challenge.
Guidelines: Implementation of E-Waste Rules 2011.
Report: E-waste (Management and Handling) Rules, 2010.
Report: Waste electrical and electronic equipment - the EU and India.
Guidelines: Transboundary movements of e-waste.
Report: Guide to greener electronics.
Related Content