Dye maker accused of dumping acidic effluents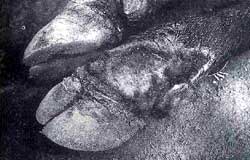 WHEN RUDA Gugha of Udauna village in the Chotila taluka of Surendranagar district "spotted a tanker parked on the dry (Mahanadi) river bed in the dead of the night" in March, little did he realise the havoc that the tanker was to wring in the region. The next day, cattle from the surrounding villages, perceiving what they thought to be water, got their feet burnt on the poisonous and acidic substance that had been dumped in the riverbed by the tanker.

More than 50 cattle suffered acid burns, which even a month later showed few signs of healing. Devayat Sardul, a cowherd of Dudheli village, contends about 10 bullocks died.

Cowherds of Chotila taluka point accusing fingers at Mardia Chemicals Ltd (MCL), a unit manufacturing dyes and dye-based intermediates in Sayala, which, as Gugha says, is the only factory in this barren area.

Environmentally clean MCL chairperson Rasiklal Mardia, however, insists that "not even a drop of untreated water is let out of the premises", as the company has a state-of-the-art effluent treatment plant, which cost them Rs 6 crore to set up. "The treated water" he says, "is used for greening the area around the factory", which occupies only 10.125 ha of the 526.5 ha owned by MCL. Pointing out that his company has planted 40,000 trees in the vicinity, Mardia claims MCL's environmental consciousness is better than those of "about 50 dye units on the outskirts of Ahmedabad, which practise few environmental safeguards". A senior district official concurs with him and says, "MCL is a modern company. They cannot do such things."

But MCL employee Harish Mehta (not his real name), who lives in Sorimbhada village, says that though MCL has an effluent treatment plant, it usually uses tankers to dispose off concentrated effluents at night. He contends that effluents had flowed out of the factory and contaminated the neighbouring fields last year. The farmers complained to officials at Gandhinagar, the state capital, that their crops were destroyed. Thereafter, says the employee, the effluents are carried out in tankers.

What he says is borne out by the rocks at a spot upstream of the Bandia Beli dam, which have become brittle because of this dumping. The rope attached to a bottle in which the alleged effluents were being collected was reduced to ashes.

Despite the resentment, there is little hope of the case being taken up, as even the local administration ignores the sporadic protests. The only hope now for the villagers is to "catch a effluent-laden tanker at the factory gate", says an activist attached to a well-known NGO. But considering that MCL is the biggest employer in the area, will the villagers dare to go against it so openly?