The 4th estate pushes its limits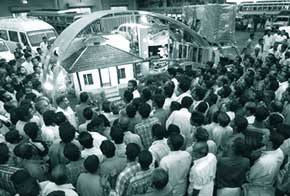 It is a rare occasion when a media group transcends its expected role of expressing and creating opinions and sets about to solve the problems of the people directly. The devastating drought that Kerala suffered in 2004 made the flaws in its water management practices quite evident. The Malayala Manorama group was flooded with reports of people's miseries. The group comprises 25 publications, catering to various sections of the society. It decided it could not be a mere spectator. It launched an editorial campaign Palathully (many drops), comprising regular articles on water management techniques in Malayala Manorama daily and a host of other activities. The campaign has stirred public consciousness on water conservation, especially rainwater harvesting (rwh), and thousands of people are its beneficiaries now .

The Gandhi Nagar fire station at Cochin was in trouble. Its 1,40,000-litre water tank could never be filled and this caused perpetual difficulties in its operations. Inspired by an article on rwh in the daily, the fire fighters put in place a system to trap raindrops that fell on the roof of the fire station's building. To their surprise, an almost empty tank was filled in three days during the rainy season. Fire station authorities say rwh helped them harvest water sufficient for a whole year. This prompted higher officials of the fire force department to establish the same model in other fire stations. Such success stories abound.

Home delivered technology Malayala Manorama's efforts peaked in the form of a road show that was taken to 300 centres in Kerala. Its main component was the demonstration of an rwh model designed by eminent art director Sabu Cyril. The show laced information on water conservation with entertainment: interactive sessions with experts, folk songs and street plays. It received massive public support. Panchayats and political, cultural and religious groups held receptions for the road show at various places.

The media group handed its readers a handbook on rwh methods and examples. It conducted various seminars and talks by experts. Exhibitions on water conservation were held at 25 to 30 centres in each district. Two-day exhibitions were held at 210 locations in the state. Over 16 lakh people visited these exhibitions.

Also incorporated in Palathully was a televised campaign. To popularise the television show, Malayala Manorama roped in matinee idol Mammooty to play the role of its presenter. It also made a 12-minute video cd, Palathully, on water conservation. "The hugely popular efforts by Malayala Manorama in spreading the message of water conservation and rwh are laudable. I've never seen a newspaper venturing out with a public cause like this,' said former University Grants Commission chairperson and renowned scientist Yashpal, while releasing the cd that was screened at public places across Kerala. A telephone help line was also established to clear people's doubts about any water conservation technique.

Watering the roots The Palathully campaign has entered schools and colleges through workshops and competitions. It has instituted an award for the state's most water-friendly school and college. This carries a prize of Rs 5 lakh. About 300 educational institutions have registered for it.

As part of the campaign among students, a booklet on water conservation activities that they can undertake was distributed among them, along with a resource book to educational institutions and National Service Scheme members on relevant projects that can be undertaken.

What's next Malayala Manorama is currently establishing model rwh projects for the public across the state; 17 of these have already been set up. The first such model, established in Palakkad civil station, was inaugurated recently. "Manorama is carrying on the Palathully campaign with the help of the overwhelming support from the public. We arrange technical support for people and institutions to help them find out the rwh method that will be the most apt for them and also to build up their rwh units. Besides, most Malayala Manorama unit offices have installed ] class="UCASE">rwh system.

We have just started a campaign for the protection and rejuvenation of Nila, the largest river of Kerala,' says a representative of the media group. Malayala Manorama devotes one page to the Palathully campaign every week.
Related Content