Strengthening the joints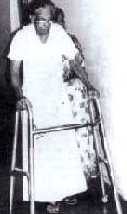 studies on rheumatoid arthritis indicate that treatment with strong drugs may work better than the gradual approach to the crippling disease. Rheumatoid arthritis is an auto-immune disease, which is caused when the body's immune system turns against the tissue in the joints .

Doctors in Belgium and Holland say that strong drugs given early to patients helped prevent the disease from damaging their bodies. D J L Joske of Sir Charles Gairdner Hospital in Nedlands, Western Australia, reports that a bone marrow transplant helped a patient to restore the immune system to some extent. The patient who had been using a wheel chair, is now able to walk two km after the treatment.

Joshe say although these transplants are very risky, they may be helpful for patients suffering from severe rheumatoid arthritis. The disease affects millions of people all over the world.

Maarten Boers of Free University Hospital in Amsterdam and colleagues across Belgium and the Netherlands treated nearly 155 volunteers with early rheumatoid arthritis. Half of the patients were given standard treatment with sulphasalazine that is used when non-steroidal anti-inflammatory drugs do not work. The other half of the patients were given a combination of power steroids and the immune suppressant drugs. Then they phased out the strong drugs and treated the patients with suphasalazine alone.

Reports suggest that nearly 72 per cent of the patients who got strong drugs, recovered from the crippling illness. About 49 per cent of the sulphasalazine group found their symptoms suppressed. The result suggests that rheumatoid arthritis can be effectively suppressed by using such hard-hitting treatment. However, the full recovery from the disease is still not feasible.
Related Content