Fights for space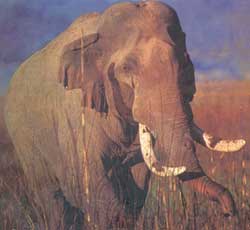 Harvest of terror
Come harvest time and tense villagers begin preparing for the next elephant raid

Like the other farmers, Durlabh Rajbhansu is afraid. As harvesting season approaches, the people of Nopam, a tiny village near Tezpur in northern Assam, steel themselves for the worst. For the last 10 years, they have witnessed herds of hungry wild elephants raid their crops every year. Durlabh, for instance, has lost count of the number of times his fields have been attacked. So, between September and January, when the fields are harvested, the villagers, together with a few poorly-equipped forest guards, play risky hide-and-seek games with the marauding animals in trying to chase them away. They do everything light fires, burst firecrackers, even scream, to ward off the rampaging herds but with little success. "We are mortally scared," says Rajbhansu, spaking of the imminent crop raids.

Nopam, suffering extensive damage to crop, life and property each year, is not an exception. The tale of woe repeats itself throughout India wherever human habitation and agricultural lands exist on the fringes of elephant-populated forests. Last year, for instance, 36 people in Assam and 51 in West Bengal perished in elephant raids. Figures released by the Project Elephant report, 1993, of the ministry of environment and forests (MEF) estimate that some 250 people and over 50 elephants are killed every year in these human-elephant conflicts (HECS). And in the last century, states such as Punjab, Rajasthan, Madhya Pradesh, Maharashtra and Andhra Pradesh once boasting of pachyderm populations have witnessed their disappearance.

It is an extraordinary situation: faulty policies and agricultural practices have put humans and elephant two species that have always coexisted harmoniously in confrontations severely affecting both. While the elephants have suffered at the hands of irate villagers, the people who once worshipped the pachyderm now regard them as rampaging monsters.
Conflicting reasons Human1 association with the elephant goes back thousands of years. The two have always lived peacefully. The elephant, an animal of immense ecological and economic value, has even been worshipped by many in India. These animals play crucial roles in maintaining a forest"s biodiversity, Thanks to their formidable size, elephants need substantial quantities of food and water that can only be supported under optimal forest conditions. Presence of elephants indicates the richness of the habitat"s biodiversity and suggests that the forest"s water regime and soil conditions are excellent. A habitat favoured by elephant herds is considered good for several other species such as sambhar, cheetal, kakar and for certain predators such as panthers and tigers.

In the early and mid 1970s, due to certain aspects of the country"s agriculture and forest policies and practices, these conflicts essentially a struggle for space first came to be noticed. Also, about then, conversion of forests into agricultural lands as well as monocultures led to a severe loss of elephant habitat across India. It was seen that the animals had no choice but to come out of the dwindling forests to look for food, which the nearby agricultural fields supplied in abundance. This is how the human-elephant confrontations began. As degradation of forest lands continued over the years, these confrontations, too, became increasingly frequent.

"Fragmentation of habitat and loss of forest has resulted in tremendous pressure on these animals," agrees Vivek Menon, a wildlife conservationist and senior technical consultant at the Asian Elephant Research and Conservation Centre, Bangalore. "And since elephants need a much larger home range than any other land animal, they are usually the first to suffer the consequences of habitat fragmentation or destruction," he adds. And this issue to restore their habitat has emerged as the biggest hurdle in resolving HECs, most experts reckon.

A recent study conducted by the Dehradun-based Wildlife Institute of India (wn) reveals a severe scarcity of elephant habitat in many states. According to a study done on managing elephant populations for mitigating human-elephant conflicts in West Bengal, a herd of 25 elephants needs an area of at least 450 sq km during the greater part of the year as compared to 1,185 sq km in the harvest season. It is around this time that the beasts conic out of the forests in search of food. Lack of habitat is forcing the beasts to venture out of the forests more frequently.

According to Vinod Rishi, former director of Project Elephant and currently the chief conservator of forest, north Bengal, conversion of natural forest into commercial timber or other monoculture plantations such as teak and several other exotic species has also drastically reduced elephant habitat in India. "Between 1966 and 1976, nearly a third of the nation"s elephant habitat was replaced by eucalyptus and other quick-growing species. Similarly, conversion of natural sal forests into teak forests in some parts of eastern India has affected elephant habitats," says Rishi. "This has been the biggest contributor to these conflicts. It is only around this time that the confrontations started becoming frequent," Rishi adds. Villagers, he says, cut the vegetation that were food for the elephants to meet their own requirements. This led to shortage of food for the animals and is hailed as the primary cause for pushing them out into the nearby agricultural fields.

In Arunachal Pradesh, say forest officials, the habitat available to elephants is shrinking every year due to construction of roads, development activities and establishment of human settlements in the foothills and valleys. In Meghalaya, Nagaland and Tripura, traditional slash-and-burn shifting agriculture has led to a severe degradation of elephant habitat. Between 1950 and 1980 about 25 per cent of Tripura"s reserve forests were lost. Nagaland lost 35 per cent of its forest while in Meghalaya, 43 per cent of forests were degraded due to shifting cultivation. A J T John Singh of wn says, "Shifting cultivation is the reason for the rise in the number of conflicts in the northeast."

D K Lahiri Choudhary, an expert on elephants currently heading a study on HECS by the Asian Elephant Conservation Centre, Bangalore, has perhaps put his finger on the true genesis of the conflicts: "We ourselves are responsible for this conflict, having destroyed their habitat thereby endangering their existence as a species."

Results
As long as the elephants" natural habitat is large enough, their daily or seasonal migration does not bring them into contact with any cultivation. However, once this habitat is reduced through fragmentation or degradation, the isolated elephant herds are restricted to small forest patches surrounded by vast areas of agricultural crops which is far more nutritious than what is available in the forest. These crops paddy, sugarcane and corn then become an easy source of food for the animals. Therefore, crop raiding by elephants occurs whenever there is cultivation in or around their habitat. It has also become a serious problem in southern parts of the country, Orissa, Assam, south Bihar and northern parts of Bengal. While villages on forest fringes live in constant fear of pachyderm raids, the animals, too, have suffered. They are harassed, chased and disturbed and many have suffered near-fatal injuries at the hands of angry villagers. "In some cases, ignorant villagers have even cleared entire patches of forests thinking this will avert such attacks," says S S Bist, conservator of forests (hill circle), North Bengal. But this has failed and the pachyderms, having been deprived of shelter and whatever little food the patches afforded, have attacked the fields more often, he adds.

Lahiri Choudhary notes several changes that indicate the pressure these beasts are under. A marked aggressiveness has been observed in their behaviour and there have been increased instances of elephant calves being abandoned by their parents. "This is highly unnatural for these animals and surely suggests the tremendous stress that they are trying to withstand," agrees S K Patnaik, chief wildlife warden, Orissa.

Between hammer and anvil
Caught between a blind and apathetic bureaucracy and the rampaging elephants, the villagers suffer the most

The conflicts between pachyderms and humans have led to a different kind of confrontation altogether between villagers in the elephant-populated areas and the forest officials. Centred on the much-debated issue of compensations, it has generated significant friction between the two sides lately, frequently leading to violent fights between the two groups. Officials often dread venturing into these villages unarmed.

While aggrieved villagers demand that the forest department compensate them for the losses they suffer due to elephant attacks, forest officials feel that villagers harass them needlessly since the .State governments do not supply ex gratia funds in time. "We can only recommend the cases to the higher authorities," says R K Das, divisional forest officer (DFO), Tezpur, Assam. "There, the matters get delayed," he adds. Villagers also complain that on most occasions, even when the state sanctions compensation, they do not receive it. Durlabh, for instance, recalls the case of his neighbour who was killed during an elephant raid in Nopam some three years ago. His widow, he says, is still waiting for her compensation. "We should not be expected to pay for the faulty policies of the authorities. Whatever we lose to the elephants should be compensated at the earliest," says Durlabh. Similarly, some 32 villages on the fringes of Jaldapara wildlife sanctuary in north Bengal were severely affected when, last year, there were several pachyderm raids that caused extensive damage to crop and property. The villagers point out that they are yet to receive their compensation.

Policies regarding compensation often differ from one state to another. Assam, for instance, has no provision of compensating for the loss of crops, while compensation for death is a meagre Rs 5,000. On the other hand, states such" as West Bengal offer Rs 20,000 as ex-gratia support for death and Rs 10,000 for crop damage in compliance with the amount fixed by the Union government under Project Elephant. "The government are paying crores of rupees every year for crop compensation alone. But even then farmers feel that they are not being compensated fully," says A K Verma, chief wildlife warden, Karnataka.

Another problem, say officials, is that before compensations can be sanctioned, the deaths allegedly due to elephant attacks have to be verified by the police through a post-mortem report. "And most of the deaths go unrcported because the local people fear the police," says Biswajit Mohanty, of the Orissa Wildlife Society, Orissa. "This means that the actual number of HEC-related deaths would be more than the official figures," he adds.

The biggest problem, however, is the severe shortage of funds, say cash-strapped officials. The Union government might release the required funds> but often they do not reach the concerned departments on time, and sometimes they never reach at all. There is also gross mismanagement of funds, rampant in states like Bihar, Orissa and Assam. In Bihar, for instance, an amount of Rs 38 lakh earmarked for elephant conservation and compensation and released in the mid-90"s - is yet to reach the concerned department. "The whole system has to be overhauled," says Rishi.

Way out
Solutions to resolve HECS exist, but so do differences of opinon on their efficacy. Says Menon, "There is a lack of consensus among officials and conservationists." While the villagers would benefit immensely from a quick solution to these conflicts, the means to achieve this has led to differences between the conservationists and forest officials. Conservationists have frequently accused officials of not involving the local villages in their conservation programmes, saying that without the local people a conservation movement cannot succeed. Bibhab Talukdar, secretary of Aranayak Nature Club in Guwahati, Assam, agrees. "Only local understanding with timely action, political will and financial support can resolve this conflict."

Forest officials, on the other hand, claim that so far none of the solutions offered by the conservationists have been successful in the field. Solutions suggested by experts have failed, as have habitat restoration and creation of migration paths, known as elephant corridors, for the animals. "Their solutions are difficult to implement in the field," says Das. Most officials think that the conflicts can be resolved only through intensive forest management. "This is the only way to ensure that the elephants will survive in the wild and not interfere with the humans," says Bist. Rishi, supporting the theory of increased participation from the villagers as suggested by the conservationists, says, "Both forest officials and villagers should work together for the restoration of elephant habitats, and should grow those species which are useful to both elephants and people. The conflict can be reduced by emotionally involving people in the forest conservation activities without following an appeasement policy."

Dinesh Choudhary, a licensed hunter based in Assam, thinks that the ban on capturing elephants in the state should be lifted. According to him, a certain number of wild elephants could be captured from the forests annually to maintain a balance between the pachyderm population and their habitat. The captured elephants whose population would be controlled could then be domesticated and used as beasts of burden. A K Chaddha, divisional forest officer, Bhubaneshwar, suggests, "A forest reserve force should be developed to monitor the activity." Both short and long term measures are needed to reduce the conflict. Managed elephant reserves, shared by people, should be established. Not a single reserve of this kind has been created so far by executive order, says Lahiri.

Another hurdle, according to Rishi, is that the animals, being migratory in nature, often cross state boundaries. However, when it comes to tackling the conflicts, there is minimal interaction or collaboration between states. "There is a less-man desired inter-state dialogue and collaboration as far as resolving the problems of elephant management and conservation are concerned," he says. In an attempt to minimise human-elephant confrontations, the MF.F launched Project Elephant in Feburary 1992. An ambitious plan to conserve the country"s elephant population and encourage its growth, the project also incorporated plans to protect villages prone to frequent pachyderm attacks. Most of these plans, which included culling, capturing and translocation of rogue elephants, digging trenches and erecting electrified fences, have so far failed. Rishi, former director of the project, accepts these failures but says that the project is only five years old and cannot be expected it to show spectacular results in such a short period. "It is the changing human behavious pattern and land-use practices that were not taken care of earlier," he adds.

Though some changes have come about due to Project Elephant, much is left to be done. Forest officials in Assam, on conditions of anonymity, say that Project Elephant has had absolutely no impact in Assam. The project, they point out, does not even have enough money to sustain itself. "If immediate solutions do not materialise, then it will be disaster for both elephants and these villagers," says Sandeep Kumar Tiwari, a researcher with the Zoological Survey of India, Calcutta, doing research on the Chandpur elephant sanctuary, Orissa. Ajay Desai, a Belgaum-based pachyderm expert says, "We must decide what proportion of their population can sustain itself in a given habitat. Only that proportion should then be conserved."

How do the affected villagers perceive the entire issue? They are suspicious of both the forest officials and conservationists. They say they do not want "outsiders" telling them what to do. "These people (forest officials and conservationists) are obstructing our way of life and we do not want to take instructions from them about how to live with the elephants," says Santosh Orang from village Baguri near Kaziranga national park, Assam. "For centuries we have been living in their company," says another. But then something went wrong somewhere. And today, for most villagers, elephants conjure visions, not of a once-revered god, but of death and damage.


BIG TROUBLE
Problematic elephant population in each state
STATE
DISTRICT
NO OF ELEPHANT
Assam



Sibsagar
Darang
Kamrup
Guwahati
16
100+
20+
25+
Arunachal Pradesh






Lower Sukanshri
Doimukh
Siang Labhanbali
West Siang
Pasighat, Ruksin
Debung-Rong-
Shantipur
Lohit Namsai
20+
20+
25+

35+

40+
40
Nagaland
Baghty valley
30
West Bengal



Jalpaiguri+Darjeeling
(west of Torsa)
East Midnapur
(migrants from Bihar)
75

50
Meghalaya
Nokrek, Dadengiri
25
Madhya Pradesh

North Sarguja, Jashpur
Chandka
25
72
Orissa

Kotgarh, Mahagiri,
Kalaht
300
Related Content