Deer under threat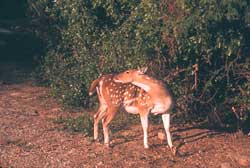 two incidents of recent deer deaths have brought home the stark reality that so-called protected areas are no longer safe havens for these animals.

Official apathy is to be blamed in both the incidents, though they took place in two ends of the country. The first incident occured in Jammu and Kashmir when twenty-four spotted deer died when they were shifted from the late Dharendra Brahamchari's Aparna Ashram in Mantalai to the newly built deer enclosure of the Udhampur district administration. In the other incident deer are under threat in the Guindy wildlife sanctuary, Chennai, particularly in the areas bordering the Indian Institute of Technology (iit) campus. Home of various endangered species like blackbucks and spotted deer, this sanctuary has become increasingly dangerous for these animals with stray dogs and speeding vehicles posing a serious threat to their lives.

In the first incident, guidelines laid down by the wildlife department for shifting such animals were openly flouted without any impunity. The deer were shifted by officials of the Agriculture University and Wildlife department of Jammu and Kashmir in cramped trucks without proper cushioning. Instead of the sheep husbandry department, private vehicles were hired to transport the animals. Result was that 24 animals were huddled in three trucks, of which 18 died en route and six at Udhampur.

Meanwhile, in the Guindy sanctuary an increase of stray dog population has resulted in them hunting deer in packs. To further worsen the situation recent construction of fences obstructs the mobility of deer when chased. Sources inform that a pregnant blackbuck doe and her unborn fawn were cornered into one of the fences and killed by a pack of dogs recently. A few chital deer have also lost their lives in similar attacks. Speeding vehicles are yet another threat to deer and other animals on the campus.

Callousness of the concerned authorities is clearly evident in both incidents. S D Swatantra, chief wildlife warden, Jammu and Kashmir wildlife department says that the decision to shift the animals was taken by the district administration. On the other hand, Deputy Commissioner, Udhampur, Shalender Kumar says, "It will not be feasible to comment on what went wrong. I have ordered a probe and let the investigations complete.'

While in the Guindy sanctuary, despite petitions by concerned individuals of iit and reports by the Madras Naturalists' Society and the World Wildlife Fund for Nature, little action has been taken in terms of removal of fences, in curbing speeding, and reducing the stray dog menace.
Related Content