Will the Yamuna clean up go the Ganga way?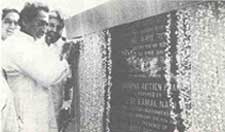 EVEN AS the Ganga Project Directorate (GPD) begins work on cleaning up the Yamuna, environmentalists are questioning the decision of the ministry of environment and forests (MEF) to commit as much as Rs 357 crore towards the project. They point out that there has been no proper evaluation yet of Ganga Action Plan-I (GAP-I), which has failed to live up to its expectations despite an expenditure of Rs 350 crore since it was set up in 1986.

MEF statistics reinforce the environmentalists' charge. GAP-I was designed to tap and treat 873 million litres per day (mld) of waste water from 25 cities along the Ganga at a total cost of Rs 292 crore in 1986. But, while cost estimates have shot up to Rs 423 crore, a GPD progress report says that till the end of March this year, sewage treatment facility was available for only 297 mld waste water, about one-third the target.
Independent assessment GPD director Vinay Shankar says four scientific institutions have been asked to "make independent assessment" reports, but these would be available only by September this year. While the GPD claims to have facilities to intercept and divert 543 mld of the 873 mld city sewage, the report is cryptic about the impact of this on river water. It says: "Water quality has been observed to improve discernibly in towns where pollution abatement schemes, wholly or in part, have been completed", but it names only Rishikesh-Hardwar, Allahabad, Varanasi, Patna and Howrah.

Meanwhile, GPD is all set to clean up the major Ganga tributaries -- Yamuna, Gomati and Hindon. The Damodar had been left out because the West Bengal government has expressed its inability to contribute to GAP-II expenses, which is supposed to be borne equally by the Centre and beneficiary states.

The Yamuna Action Plan, which started on June 5, is the first to begin, and will get Japanese assistance worth 17.7 million yen (about $164,200) over the next five years. Work on the Gomati will begin soon after the monsoon if the promised British assistance of L30 million comes through.
National plan Contrary to reports, the Planning Commission is yet to clear the ambitious National River Action Plan (NRAP), which will clean the most polluted stretches of 22 Indian rivers. NRAP will eventually subsume the second phase of GAP.

GPD had submitted an estimate of Rs 900 crore for NRAP in early 1993, but the Planning Commission has asked for a more detailed project report, containing exact data on crucial factors such as effluent discharge and nature of pollutants. GPD is now carrying out fresh surveys and the reports will be ready by September.
Related Content