Joy for now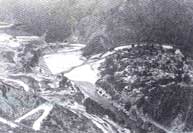 An offer of Rs 700 crore as aid by a consortium of Uzbek, Russian and Swedish companies has evoked jubilation among employees of the Tehri Hydroelectric Development Corporation (THDC), which is responsible for building the Tehri dam.

The offer is a lifeline for THDC, which is desperately trying to raise resources for the powerhouse. According to the terms of the project, the state and Central governments will finance construction of the dam and the spillway, leaving power generation systems to the corporation.

An earlier offer by a Russian-Uzbek consortium was rejected in April by the Union government. But now, says THDC spokesperson V B Gupta, "We find the offer satisfactory because it will cover the entire cost of the powerhouse equipment and the repayment can be done by exporting goods from India."

One question that remains unanswered is whether the Union government will consider this "lucrative package" before the cabinet clears the Tehri project. Money for the powerhouse is obviously useless until the cabinet sanctions the project and the Centre releases funds for the dam. But then, is THDC's optimism an indication that cabinet clearance for the project is no longer in doubt?
Related Content
Joint committee inspection report on Grasim Industries (Chemical Division), Nagda, district Ujjain, Madhya Pradesh, 21/09/2023
Global progress report on sustainable development goal 16 indicators: a wake-up call for action on peace, justice and inclusion
Order of the National Green Tribunal regarding a salt factory polluting environment in village Dokha Dina, district Charkhi Dadri, Haryana, 21/09/2023
Order of the National Green Tribunal regarding illegal construction of road by hotels on reserve forest land of Naina Devi Himalayan Bird Conservation Reserve, Nainital, Uttarakhand, 21/09/2023
Order of the National Green Tribunal regarding stone mining in the eco-sensitive zone of Mahananda Wildlife Sanctuary, Darjeeling district, West Bengal, 20/09/2023