Elephantine problems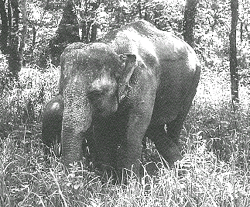 three elephants in West Bengal's Jalpaiguri forest division have been poisoned to death by poachers. Two bodies were recovered near Damdim tea garden. Viscera reports confirmed that the elephants were poisoned to death. Forest officials suspect that a third elephant was also poisoned.

These killings are a result of a shift in the mode of operation of poachers who operate along the Indo-Bhutanese and Indo-Nepalese borders.

Now, pesticides are being used for killing elephants. The tea gardens have also come under flak from various ngo s for using pesticides wantonly that kill the pachyderms. After tracking down the corridors used by the elephants, the poachers either mix poison in water reservoirs or a contaminated water container is kept in the area. Elephants seldom change their corridors.

High-tension wires are also responsible for the death of pachyderms. Recently, a 10-year-old elephant was electrocuted in the Bandapani tea garden at Birpara in Jalpaiguri. During the harvest season, farmers use high-voltage electric wire fencing to ward off attacks by elephants.

Forest officials allege that such fencing is illegal and say that they have lodged a first information report (fir) . Officials of the Jalpaiguri forest division said they had found the bodies of three leopard cubs at Ranichera tea garden, one at Rangamati tea garden and three more at Minglass tea garden during the past three months.

The local forest officers are also guilty of killing animals by using excessive tranquillisers. In 1998 alone, seven bisons and three leopards died due to inept handling by forest officials of northern Bengal.
Related Content