Major battle for minor stuff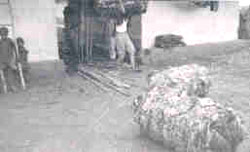 MINOR forest produce. To tribals anywhere, they form the demarcating line between plentiful food and persistent hunger. But present government policies are pushing more for commercial exploitation of the forests and monoculture plantations. It is hardly surprising, therefore, that today the struggles of adivasi (tribal) movements all over the country is focussing on their rights over these produce, called MFPs. The Ekta Parishad, a coalition of several groups working in different parts of Madhya Pradesh, is involved in one such movement.

The Parishad recently organised a dharna (sit-in demonstration) of adivasis - protesting the state government's forest policy - in front of the collector's office in Bilaspur district. Their slogan: Jul, jungle, jarneen, yeh ho hamare adhin("We want control over our land, forests and water").

Madhya Pradesh has one-third of India's forest area. The adivasis comprise 18.8 per dent of the state's population. Depletion of forests over the years has hit them hard. Etwari, of Bendawal village in Lormi tehsi4 Bilaspur, fumes, "Howcan we survive? Half the villagers have no land. Earlier, we could earn our livelihood throughout the year by selling mouhalayan patta (broomsticks), made from chir grass, or bamboo utensils. But the raw materials have been taken away and people are migrating".

MFPs also give them medicinal herbs for treating minor ailments: harm and behra for treating common cough; or chirour for treating malaria, for example. The fact that treatment in a dawakhana (dispensary) is a luxury makes these of paramount interest to the adivasis. Dhaktibai of Katami village says, "The sarkari (government) doctor charges us fees. Most often, we have to buy medicines from outside. Who has the money? We either use home remedies, or just wait for thr illness to subside."

Prices for most MFPs have increased only marginally in recent times (tendu, or tobacco leaves being the possible exception). The mouhalayan patta market is still domam by middlemen. "We get about Its 3-3-M the most for every kg of leaves. Someto we just manage Re I," says one adivan. lk local trader from the Kanha reserve, who I have been in this business for the last 20 year confessed that his profit margin is anything between Rs 2 to Rs 4.50 per kg. By the time the stuff reaches the Andhra Pradesh market, it sells for nothing less than Rs 8 per kg, he says.
Dubious measures The Madhya Pradesh Minor Forest Produce Corporation (MPMFPC), Bhopal, claims that it will soon bring other MFPS besides tendu, harra, special categories of gum, and sal see (which are controlled by it) under a monopoly purch@ scheme to cut out the middlemen. V R Khare, chief Of MPMFPC, says, " Tendu is collected by the cooperative society eties formed in 1989. People are getting a fair amount money selling these leaves. We want to put a stop to the exploitation of adivasis by the middlemen."

The Fkta Parishad activists are far from happy about the functioning of the cooperative societies. Keshavram Shourd secretary of Prayog, one of the affiliates of the Parishad says. "These cooperative societies have been forced on the People They are not built up through people's initiatives. They are called 'sarkari societies'. Payments are very irregular".

Baswantibehan of Jamnahi village says, "The payments are often delayed by up to 20-25 days. In thekedari (business through middlemen), at least we received payments daily". In fact, some villagers complain that they havn't received ments for even last year's sales. Khare agrees: is happening is very bad. The only solution is for It people to become conscious of their rights and fight for them. After all, the person distributing the money is from their own village". He adds, "We do not know about the scale of the problem. We may decide to survey 10-15 societies".

Members of the Ekta Parishad say that increasing stratification amongst the adiva5iS makes it difficult to organise them. "The Baiga community is the most exploited of the lot, while the Gonds consider them selves more advanced, and are settled agriculturist one organiser explains.

"But the Baigas in Bilaspur district are being helped to get organised and fight for their right says Reshmi, an activist. The struggle of the Baigas of Ghameri village has already inspired many others.

While conditions in the degraded forest areas, to which the adivasis have access, continue to be abysmal, confusion is compounding the crisis in the areas notified as national parks or wildlife sanctuaries (referred to collectively as 'protected areas', or PAS). Achanakmar, a wildlife sanctuary in Bilaspur has Dot undergone final notification for prohibition. Atul Srivastava, district forest officer and in-charge of this sanctuary, says emphatically, "The ban on collecting MFPs has been lifted only in the case of rendu leaves in the areas which have not undergone final notification". But, R C Sharma, chief conservator of forests (wildlife), states, "The ban has been lifted on all MRS in such areas."

This confusion also prevails among the lower forest officials, leading to the harrassmerit of local adivasis. As Etwari says, "We fear the forest department very much. We are questioned even if we bring out small dry twigs from the jungle for ftielwood."

Big words, false hopes
Adivasis living in the notified PAS face worse crises. Kariba National Park in Mandia district is regarded as one of the best maintained PAS. The lush green forest speaks of a successful conservation effort - too successful for the good of the adivasis. With Kanha's territorial forests severely degraded, the adivasis are left with few options.

A forest ranger in Kariba says, "Collection is strictly prohibited here. However, practically speaking, total prohibition is not possible. So people enter the forests, We take action, depending upon the nature of the offence committed. Any injury to the wildlife invites immediate arrests."

It would seem the department is generous with MFPS, though strict about fauna. But this is hogwash, the adivasis say. Says Shuklal of Shijora village, "Our axes arc confiscated by the forest guards, and released only after we pay them some money, rice, chicken or liquor". Besides, the strictures against injuring wildlife means that adivasis have to suffer silently when wild animals frequently trample their standing crops. And the government doesn't even have any policy for compensations.

While forest officials allege that the degradation of Kanha's territorial forests is due to indiscriminate felling by the adivasis, the villagers point to commercial felling. In fact, one official, requesting anonymity, concurs: "The forests are cut down for commercial purposes. This should be stopped."

The proposed ecodevelopment plans for providing the adivasis with alternative biomass, fodder and livelihood opportunities are yet to take off. Jagdish Chandra, assistant director of Kariba, says, "The surveys for the ecodevelopment plans have been completed. We will be implementing them next year." R C Sharma adds, "We hope to start MFP-based smaUscale industries in cooperation with the MPMFPC, which will provide the marketing support."

The only ray of hope lies in the World Bank (WB) financing joint forest management programmes (IFM) in the entire entire states Forest officials have suddenly found it fashionable to show a positive attitude towards the concept. Most of them have formed forest protection committees. Atul Srivastava says "Surveys have already been completed in Bilaspur and we have formed protection committees. A pilot project funded by the WB will be taken up in Bilaspur. Our aim is forest development with village development".

Clearly, regeneration of the system of forest produce as a common resource will only be possible if JFM takes deeper roots amongst officials. But though fashionable as a slogan in their unguarded moments, officials reveal their deep contempt towards adivasis. A Mandla forest officer, speaking about jFm, lets slip: "These adivasis are like rats, ) know .. they hoard things like fuelwood in their houses. They have no respect for the forests. You can control them only through inducing fear in them." As Ekta Parishad activists point out, "The attitude of the forest officers, who look upon the adivasis as 'chars' (knaves) has to change." There can be no JFM Without that.