ANGOLA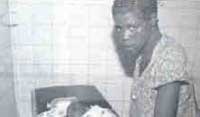 In Angola, 95 children are dying everyday. Not from bullets or mines, but from disease and malnutrition. The United Nations Children's Emergency Fund (UNICEF) has come up with this shocking fact.

Thousands of Angolan children lost one or both parents during the 19-year-long civil war between Unita rebels and government forces, which was brought to an end by peace agreement in November 1995. But the wounds suffered by the children, both mental and physical, are yet to heal.

At present the UNICEF is making a valiant effort to motivate the Angolan government to take proper care of the unfortunate children. "I have proposed to the Angolan authorities that they make child welfare, health, schooling, and leisure an internal aspect of every phase of reconstruction," says Graca Machel, the lady in-charge of the UN study on the impact of war on children.
Related Content