Indo US deal undermines food safety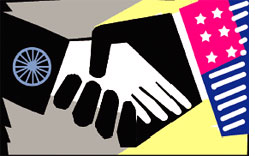 Two years ago, Parliament passed the food safety act. Till date the union health ministry has not notified the law in full, nor has it formulated rules under the act. Instead, the ministry has now signed an agreement with the us to draw up standards for import and export of food and medicine. What's more, the health minister has promised to have the new system in place within a year. The agreement, however, seems to benefit the us, undermining Indian safety standards and trade concerns.

On January 7, the two countries signed an mou for setting up a working committee to ensure a common food and drug regulatory regime on the lines of the us Food and Drug Administration. An official at the Ministry of Health and Family Welfare said that under the agreement the us would assist India in improving surveillance standard at the ports and provide equipment to upgrade the food and drug industry. us Secretary for Health and Human Services Michael O Leavitt, who was in India to work out the deal, emphasized that such a regulation would guarantee that Indian exports related to health and healthcare met international standards, and did not imply that Indian products were substandard in any way.

Suman Sahai, the director of Delhi-based Gene Campaign, is not convin-ced. "We do not need another food safety act scripted for us by the us when we haven't operationalized our own Food Safety and Standards Act. This is just to create pressure on the Indian government to accept us products,' she says.

Blocking moves by countries setting trade barriers for American products, is not new to the us. It had challenged India's decision to label genetically modified (gm) products in the wto Committee on Technical Barriers to Trade in August 2006, saying that labelling could hinder international trade. The food safety act that enables gm labelling is not yet fully implemented, and this agreement "will ensure that gm food and drugs are brought to India with least resistance', Sahai added. This is a possibility since the us considers India a lucrative market, says A K Gupta, adviser, Agricultural and Processed Food Products Export Development Authority.

Also, India had blocked us wheat last year for not meeting safety standards. "This may not have gone down well with the us. So this initiative could be to ensure that the us has an unrestrained market in the country,' says Bhaskar Goswami, analyst, Forum for Biotechnology and Food Security, a group of scientists, farmers and policy-makers. The us embassy did not respond to queries on such a possibility by the time this story went to press. The us had raised a hue and cry in 2007 over Indian quarantine norms that did not allow a consignment of its wheat because it contained 21 weeds not found in India. The American embassy in Delhi had then stated that "substantial hurdles still remain as the us cannot agree to import standards that are impossible to certify and not in line with international norms'.

There has been speculation in the past that the us government wanted to scale down the Indian maximum residue limits (mrls) for pesticides in food in line with the mrls set under codex Alimentarius, the global food standard agency. The health ministry official declined to comment on this possibility. An official at the codex contact point in the health ministry said it was not possible for the us to influence any other country to dilute its standards. He, however, agreed that the us could approach India on a specific matter to smoothen trade barriers. Goswami cautions that "if India relaxes its mrl standards it will be unable to meet the requirement of many countries, primarily European, which have strict standards. And this could hurt Indian exports'.

Ironically, while the us wants barriers to the export of its products removed, it is very much concerned about import safety. Leavitt said that in the coming years his country would urge partners like India to guarantee that all exports related to food, health and healthcare products meet international standards. This comes in the wake of criticism over substandard Chinese goods imported by the us. The us has signed a similar agreement with China on food and medicine safety. As Gupta points out, India already has very high food safety standards; it is regulations that require attention. "We need to strengthen the regulatory bodies and everything will be in place,' he says.