Drought in Somalia makes civil war worse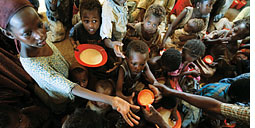 The government of Somalia has appealed for an "urgent international help' for people in drought-affected regions of the country saying that the "transitional federal government cannot address the problem alone'.

The drought has affected central and southern Somalia, with regions of Hiiraan, Galgadud, Mudug, Bay, Bakol and Gedo being the worst-hit. Since the deyr rains (the October-December rains) have been a complete failure, there is an acute crisis of drinking water and food, and peasants have lost 70-80 per cent of their livestock, said the deputy prime minister Ahmed Abdisalam. The World Food Programme is planning to support agro-pastoral communities. With civil unrest exacerbating, several international ngos have started pulling back saying the government is not providing protection.