The grapes of growth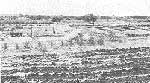 EIGHTY-year-old Ganapathyrao Mhetre has a fondness for grapes. He is an avid collector of books and journals on grape cultivation. And since 1991, he has experimented with cultivating them organically.

The idea of going organic occurred to Mhetre because the land around Tasgaon in Maharashtra's Sangli district, where he owns a 16-ha plot, is drought-prone. In the summers, farmers spend up to Rs 1.7 lakh on each ha of grape, transporting water from the Krishna river 15 km away.

Mhetre grows grapes on about 4 ha and cultivates bajra, wheat, jowar, watermelon and jute on the rest of the land. A little more than half ha has been allotted for his experimental organic grape orchard.

Mhetre explains that the trellis and wiring for the organic grape garden is similar to the inorganic one. However, plant-based manure was applied instead of chemicals.

Mulch, consisting of leaves and drumstick and jute cuttings, is obtained from neighbouring farms and applied once in three months. With mulching, says Mhetre, the plants need to be watered only once in 2 weeks, compared to once a week ordinarily. Additionally, the plants need only 6 litres of water each, compared to 20 litres otherwise.

Though pesticides are generally avoided, a mix of copper sulphate and lime is sprayed to control some diseases. Normally, pests and disease do not occur with mulching, but they sometimes break out on a limited scale, spreading from other gardens.

Mhetre adds that a 2-year-old organic grape garden yields as much as a 10-year-old inorganic garden. The girth of a 2-year-old organically grown grape plant is 6 cm, which is a little bigger than a 10-year-old plant grown with fertiliser and pesticides. Besides saving on fertilisers and pesticides, considerably less labour is required, says Mhetre, who expects to get 10 tonnes of grapes this year.

When Mhetre introduced grapes in the district in the early '60s, he could hardly have imagined that the entire district would one day follow him. Although other farmers were initially hesitant, after seeing the success of Mhetre's grape farm, they, too, latched on to the idea.
Related Content