Front isn`t best in a bus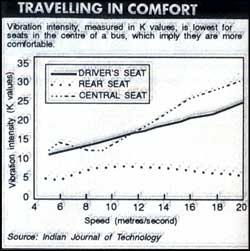 THE NEXT time you board a bus, don't make a beeline for a seat in the front and avoid the rear seats like the plague. They are the least comfortable. Researchers at the Indian Institute of Technology (IIT) in Bombay say the seats in front, including the driver's seat, and the rear seats are the most uncomfortable because they experience the most vibrations (Indian Journal of Technology, Vol 30, No 6). The irony is that in some states, the front seats are reserved for MLAs and other VIPs or passengers travelling in them have to pay more for the supposed privilege.

Using a mathematical model, researchers D S Mauskar and Y K Dange measured variations in vibration intensity at different speeds of a TATA 1210, the most popular bus model in the country. They evaluated the comfort level at three positions -- the driver's seat, a seat in the middle and the rear row of seats -- and found that at a cruising speed of 50 km per hour, only the seats in the middle are reasonably comfortable. Drawing on other studies, the IIT researchers estimate that when riding in the driver's seat, the middle seats and the rear seats, discomfort, resulting in localised pains and travel sickness, begins when the bus is travelling at 50 km/h after 1.32, 7.25 and 1.3 hours, respectively.

Mauskar and Dange's recommendations for reducing bus travel discomfort include letting the driver take short breaks frequently, even if this irritates the passengers, removing seats installed beyond the rear axle, providing rubberised footrests to driver and passengers, equipping the driver with special shoes to absorb vibrations and improving the design of all the seats in a bus.
Related Content