Ghaziabad battles noxious fumes from burnt batteries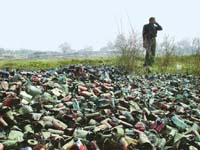 poisonous smoke from the burning of a dump of batteries in Ghaziabad spread on January 8, 2007. One woman succumbed due to the smoke, others complained of nausea, headache, coughing and vomiting. Fifty were admitted to a hospital in Delhi. A few others were taken to private nursing homes.

Residents of the area say that the batteries had been dumped about a week before the incident happened. "I was sitting outside my shop with friends. Suddenly we observed fumes coming out of the stack. In two hours there was a raging fire. Fire brigades eventually brought the fire under control but by then the smoke was everywhere,' says Dhiraj Dhama, a resident. The administration did not arrange for any ambulance for them and they were left feeling helpless, residents complain.

People say that the incident has affected residents of many colonies in about 2 sq km area. "My mother-in-law felt nauseated initially.And then she choked and passed away,' says Rekha, the daughter-in-law of Premvati who allegedly died of the poisonous smoke. Another victim, Rakesh, is receiving medication for blurred vision, caused by the incident. A heap of burnt batteries and thousands of battery covers scattered all over the place are the only remains of the inferno. People are clueless about how the fire started. "fir has not been lodged yet. Some waste caught fire. It was just an accident. Nobody has been arrested,' says Satendra Yadav, station officer, Sahibabad Police Station.

Nobody knows the kind of batteries that made up the heap but the blame-game has begun. City magistrate R P Singh has issued a notice to the regional office of the Uttar Pradesh Pollution Control Board. "An enquiry is underway but I haven't heard of any death due to fire or smoke,' Singh said. The pollution control board maintains that the dumpsite falls under the purview of the Ghaziabad Nagar Nigam (gnn) and the civic body should know about the origin of the waste. "We sent our team to look into the matter the day it was reported in local newspapers. We have collected samples and sent it to the Lucknow laboratory. There are many scrap dealers who segregate the waste. Probably, some local scrap dealer might have dumped that waste there. But then it is up to gnn to keep us informed. We are responsible only for the hazardous waste created out of manufacturing process,' says T U Khan, regional head, Uttar Pradesh Pollution Control Board.
Lethal waste The incident might be an accident, but it's a very serious one. The smoke could contain neuro-toxic elements and inhaling it could be lethal. Dumping of dry batteries without reclaiming the harmful elements and metals out of it is illegal and it can lead to severe consequences. Battery waste disposal rules exist but only for lead-acid batteries, which are used in cars. Even they are not followed. The rules are like a paper tiger, say experts. "Not all aspects of battery recycling are covered under the Indian rules. They have left out nickel-cadmium batteries, mercury button cells and lithium batteries. Cadmium is as poisonous as lead,' they claim.

About 150,000 tonnes of batteries are discarded from automobiles, telecom equipment, railways and other sources. In order to regulate collection of old/used batteries and their recycling, the government promulgated Lead-Acid Batteries (Management and Handling) Rules in 2001 under the provisions of the Environment (Protection) Act, 1986.

But as the Ghaziabad incident shows, the rules are most often honoured only in violation.