For an environmental viewpoint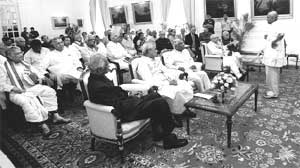 The meeting of state governors, held in New Delhi on July 12 and 13, had an unusual feature. The President of India, K R Narayanan, had invited Anil Agarwal, director of the Centre for Science and Environment (CSE), to make a presentation on environmental issues at the Rashtrapati Bhavan. Apart from the governors and lieutenant governors of all the states and union territories, those present included the vice-president, the prime minister, the ministers of home, defence, finance, external affairs, science and technology, agriculture and law, among other cabinet ministers.

Agarwal's presentation, entitled 'Protecting the quality of life and eradicating rural poverty', placed before the gathering several facts relating to the state of India's environment. While rural land manage-ment and energy quality has gone up over the past decade, the quality of life in urban areas has deteriorated, along with environmental health and riverwater quality.While rural India provides some shining examples of environmental management that can be replicated, no such examples exist in urban India.

Focussing on the drought in several states, Agarwal pointed out that no effort was being made to 'drought-proof' the country. Instead, the government had tampered with the country's hydrological cycle, without sparing a thought about maintaining its integrity. He described the varied potential of rainwater harvesting, both in drought-proofing the country as well as in eradicating poverty, describing the examples from Ralegan Siddhi in Maharashtra and Jhabua district in Madhya Pradesh, where community-based rainwater harvesting has dramatically changed the ecology and the economy of these areas. He cautioned that unless communities were socially mobilised to participate in watershed development efforts, success could not be ensured.

Agarwal sounded a note of caution about the extremely dangerous health effects of air pollution in India cities from diesel exhaust emissions and the need for a green and clean tax to deal with the air pollution menace. He concluded by describing the scientific challenges before India and the need to promote science for ecological security and social security.
Related Content