The dream remains confined to Garhwal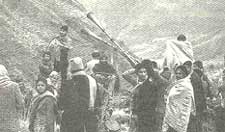 THE BRITISH blamed the improvidence of the Indian peasantry for the destruction of India's forest wealth.

Even with Independence, the bureaucracy continued to toe this line and with such effect that in the 1950s, the new forest policy asserted local people should not enjoy special rights over forests in their neighbourhood simply because they happened to be born there. Instead, industries were given special rights to use forest resources at prices as low as 0.1 per cent of prevailing market rates. Farmers in the Alaknanda valley in Garhwal, for example, had to pay much more for pine resin locally than the turpentine factory in faraway Bareilly. As for the valley's fodder-yielding trees, a sports-goods factory retained control over them.

The realisation of their loss and the small measure of power acquired by the peasants in democratic India triggered Chipko, a landmark in India's conservation movements. Before Chipko, conservation movements were invariably elitist, like the World Wildlife Fund, and folk traditions of ecological prudence were certainly fading away, if not totally eliminated. An example of this is that in the 1970s, the Karnataka forest department even recommended the felling of sacred groves to feed the plywood industry.

Chipko turned the tide because people began to realise the well-being of peasants and tribals is linked intimately with the health of the local ecosystem. Commercial users, on the other hand, did not care if a resource base was exhausted because they could always move on to a substitute.

Since Chipko was started 20 years ago, some substantial gains have been achieved. Commercial forest exploitation has been checked to some extent, the new forest policy acknowledges local communities as legitimate guardians of their resource base and above all, most of the states have issued orders assigning an effective role to local communities in managing their forest resources.

Unfortunately, little of this has been translated into reality. Throughout the country, local communities remain unorganised and inadequately empowered. Only in West Bengal, where the process of political decentralisation has gone farthest, has genuine progress been made. Land reforms have been implemented and village-level political cadres are effectively challenging officialdom.

Obviously, only when people at the grassroots level across the country acquire actual control over their own destiny, will they be able to protect India's long-exploited resource bases.

---Madhav Gadgil is chairperson of the Centre for Ecological Studies at the Indian Institute of Science, Bangalore.