Flow of death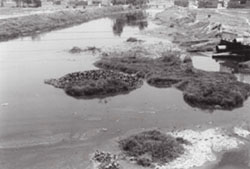 recently, a team of experts from India and Bangladesh met at the South East Asia Regional Office of the World Health Organization (who) at New Delhi, from April 29 to May 1, to deliberate on arsenic contamination of groundwater in West Bengal (wb). The government of India, feel experts, have not been showing much interest in the issue, treating it to be a trans-border issue.

As who has yet to finalise its recommendations to the Centre, public health and environmental experts have sounded their concern over the government's lack of a "proactive" stand on issue. The meeting, as many of them pointed out, was a result of the Bangladesh government's pressure on the international community.Research records of the School of Environmental Studies (soes) of the Jadavpur University, Calcutta, show that arsenic poisoning was noticed in wb in 1978.

The aim of the who meet was to develop a common plan of action to contain the problem of arsenic poisoning. Several experts from India's premier research institutions, like the All India Institute of Hygiene and Public Health, Calcutta; School of Tropical Medicine, Calcutta; State Water Investigation Directorate of West Bengal, and the Central Ground Water Board (eastern region), participated in the meeting along with un representatives and leading Bangladesh institutions.

According to A Wahidud Khan of National Institute of Preventive and Social Medicine, Dhaka, Bangladesh, the problem first appeared in Bangladesh in 1993, and 23 districts out of the total 64 have already reported arsenic poisoning. According to soes data, upto April 1997, arsenic has affected eight wb districts comprising 59 blocks and 840 villages, and 2.5 million people are drinking arsenic contaminated water.

A total of 38 million people living these 840 villages are at risk of arsenic poisoning. Many have already reported black spots and nodules on hands, liver enlargements and run the risk of cancer. The poisoning occurs due to decomposition of the underground pyrite layer of rocks leading to leaching of arsenic into the groundwater. Some experts argue that leaching occurs because of excess groundwater extraction for agriculture, leading to the lowering of the water table.

The Indian government apparently has always considered the problem to be a state subject, according to D N Guha Mazumder, a gastroenterologist from the Institute for Post Graduate Medical Research and Education, Calcutta. soes director Dipankar Chakraborti points out that no effort, whatsoever, by the government, is reaching the common people. "A direct result of this," he said, "is that even today the villagers don't know that the black spots on their bodies are due to arsenic poisoning."

Epidemiological studies by Mazumdar in two West Bengal villages shows that on an average, 50 out of thousand people show visible symptoms of arsenic poisoning that include melanosis (skin discolouration), keratosis (hard growth on the skin) and in rare cases, carcinoma (skin cancer).

Besides skin cancers, now internal cancers are also becoming increasingly common due to arsenic poisoning, say experts. Allan H Smith, an epidemiologist from the University of California and who consultant, points out that arsenic poisoning is found in China, Taiwan, Thailand, Chile, Mexico and Nevada and parts of California in the us."But the problem there is not as extreme as the problem here," he says.
Related Content