Water cess bill gets Lok Sabha nod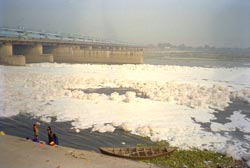 the Lok Sabha passed the Water (Prevention and Control of Pollution) Cess (Amendment) Bill 2000 on February 18, 2003, during the ongoing budget session of parliament. The bill proposes a three-fold rise in the cess to be paid by industries consuming more than the maximum permissible limit of water. According to the Union ministry of environment and forests, the amendment would go a long way in checking groundwater contamination caused by the industry.

The bill specifies that apart from the current hike, cess rates will be regularly revised in the future also. In other words, it focuses on financial disincentives for the indiscriminate use of water by the industry. "The change, once effected, would help state pollution control boards garner additional revenue to the tune of Rs 140 crore,' points out Union minister for environment and forests T R Baalu.

In most states, the cess paid for one kilolitre of water consumed does not exceed 50 paise. In some places it is as low as 1 paisa. Experts aver that while the three-fold increase may not make a significant difference in real terms, it is a step in the right direction. "The government has done well to focus on reducing the quantity of water consumed by going into the economics of the exercise,' says M B Jauhari, a Delhi-based consultant.