An industrialist turned organic farmer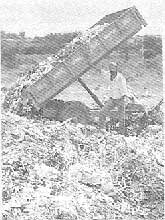 EVERY day, a truck draws up to Jayanth V Barve's farm near Vite town in Sangli district and dumps about one tonne of municipal waste. Barve pays Rs 20 for the transportation and then his workers set out to transform the refuse into vermicompost, which is sold at Rs 2,600 per tonne. Says Barve, a former industrialist and pesticide dealer, "I get gold out of waste."

Barve's technique is simple: he uses earthworms. The municipal waste is spread out on his land and after it decomposes, glass pieces and plastic materials are removed and sold to rag pickers. The remaining waste is fed to the worms, which consume it and produce compost.

Since 1991-92, Barve has sold more than 100 tonnes of vermicompost to farmers in Sangli, Kolhapur, Solapur and Satara. Barve personally visits farms for on-site consultancy and says farmers prefer to use the compost for horticultural crops like grape and pomegranate. For one ha, 6.25 tonnes of castings are required, according to Barve, adding, "Repeated applications of castings are unnecessary if farmers take care of it."

Barve's farm itself was in bad shape when he took it over. The soil was alkaline and its potash content was as low as 62 kg per ha instead of the normal 250 kg per ha. In 1989, Barve applied two tonnes of worm-casts on a 0.3 ha plot that was put under grape cultivation. Subsequently, 2 tonnes of farm yard manure were added and every month, about one kg of cow dung and urine was applied for each plant. Also, sugar cane thrash, parthenium and grass clippings were mulched. After a year, the soil's alkalinity was reduced and the potash content rose to 800 kg per ha.

In the first year, the grape yield from the plot was 6.5 tonnes, which, according to Barve, was 2.5 tonnes lower than the yield from inorganic techniques. "Although the yield was low, the soil quality had improved and the quality of fruit was good," says V B Ketkar, who looks after the farm. He adds that unlike inorganically produced grapes, these grapes had longer shelf life and grew more evenly in the bunch. Hence, the entire lot gets ready at the same time. Besides, the input cost is low.

Barve says that it is not necessary to use vermicompost if the soil is healthy. However, to activate the soil, castings and mulching are a must. Barve's slogan: "If the soil is healthy, apply farm yard manure. If it is dead, apply vermicompost."
Related Content