Dutch to pay ecological debts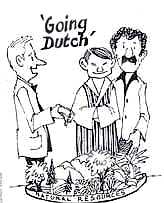 THE NETHERLANDS is negotiating 10-year, bilateral, sustainable development agreements with Bhutan, Benin and Costa Rica, which, Dutch officials say, will be strikingly different from other such treaties. The agreements recognise that the rich should reduce their use of global resources, repay their ecological debt and assist the poor in improving their environment. Frits Schlingemann, chief of the Dutch foreign ministry's environment programme, described the pact as one requiring "a change in perception, a different way of thinking about North-South relations and about other cultures".

The agreements, to be negotiated within a year, aim at being reciprocal in all aspects. The implication is the West can learn from other cultures. The Netherlands, in this case, recognises that the agreement will address Dutch domestic policies as well, because its society is less sustainable than those of its partners. For example, while discussing a proposal that the Netherlands would pay a sustainable price for Costa Rican coffee, critics from Costa Rica argued the very cultivation of coffee for export to the North was not sustainable when poor Costa Ricans cannot grow enough food for themselves.

Both countries would strive to provide the people more equitable access to their natural resources. "This will mean," said Schlingemann, "the Netherlands will pay sustainable prices for imports of cotton, tropical fruits and plant genetic material from Costa Rica, in exchange for sustainable production. Conversely, the Dutch export package to Costa Rica should also be subjected to the sustainability criteria." Schlingemann explained the principle of equity to be applied within nations as well as between nations, is at the core of the proposal agreement on sustainable development. With Bhutan, for instance, as the expulsion of Nepalese refugees is to be discussed within the framework of the agreement, Dutch policies towards refugees and illegal foreigners also will be examined.

The agreements would also oblige the Netherlands to reduce its use of the environment to its "legitimate share". Keeping this in mind, the Dutch electricity sector could be allowed to partly offset its carbon dioxide reduction targets by investing in hydro-electricity in Bhutan.
Related Content