An Old tree and some wise men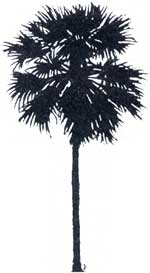 THERE is an instances galore of the changing ways of life, aided by market trends and unimaginative policies, driving out of existence many sustainable and wise practices. Most of these developments have-been propelled by the idle pursuit of comfort, and have been singlemindedly wasteful and damaging to the environment. Perhaps the palmyrah tree and the sourcing of sugar:s jaggery from it would be just such an example.

In most parts of south India, particularly in Tamil Nadu, palmyrah jaggery has been the single largest source of sugar. The tree sufvb@es well with even as little as 400 mm of rainfall. Sugar-making was traditionally a family occupation. The male members would climb the trees and empty the exudate collected in small mud pots. The women and older children would be involved in producing the final product, While the palm sap wa&collected, the old leaves were cut and used as fuel for the production process. The owners of the trees and the working family would usually come to an arrangement on sharing the jaggery, and once the job was done, the family moved on to the next village. Palmyrah was all about a whole culture and an integral part of Tamil folklore. As a tree, the palmyrah was never cared for, and yet it gave so much, from roofing and fencing materials to fruits, juices and much else.

,But then, people moved on to another source of jagerry: cane sugar. This is a water-intensive crop, grown in a state perpetually complaining of being parched. But that is only the beginning of a series of grossly unsustainable practices and their ruinous environmental impacts.

Mill-based sugar processing from cane juice leads to the discharge of pollutants, which ruin the waterbodies they are emptied intp. W1 is worse, most of these unscrupul( avaricious mill owners integrate tl armills with alcohol manufacturing ur production releases even more harmfi the cases of mills without an alcoh ponds of molasses remain as surplus, groundwater further.

Sugar production is increasing, becoming the Cinderella in the marke ers. Why does sugar appeal to us mor( white and crystalline and appears 'civilised'? Definitely, some food for thought!

Mill-based sugar production is cal More people used to make a living palmyrah jaggery than they do now from sugarmills. The cane growers make little profit, while mill-owners walk away with the lion's share. In fact, growing coverage of sugarcane cultivation has over-stretched the state's irrigation capacities, leading to a running battle with neighbouring Karnataka over the sharing of Cauvery waters.

This sugar-from-cane fad has ruined palmyrah farming, and the tree-owners have fallen prey to the lure of the lucre from felling and selling the plants to brick kiln-owners. And the infinite foolishness and failure of our monetary and fiscal economic structure stands out by itself by pricing 4 palmyrah tree at just Rs 500. But then, what about the social and environmental prices?

Our cynical economic experts often dismiss these observations as old-fashioned, obsolete and romantic. They hardly comprehend the concept of sustainability. They cite burgeoning population figures and various other data, as excuse for encouraging monstrous production aciivities. Policy interventions and sensitive, enlightened 4nitiatives by the society could have still kept the palmyrah alive, and thriving. It would have actually meant considerable reduction in the demand for cane sugar and thus, fewer mills and lesser pollution.

Our experts also say that the bagasse from sugar mills is raw material for our paper industry, so, sugarcane is an 'ecoftiendly' crop. But in reality, bagasse is only a 20 per cent substitute, and you still need pulpwood. The big sugar mills and huge paper mills, therefore, stand shoulder to shoulder and double the misery of the rivers.

It is always a question of scales, of wise- compromises and of need-based adjustments. The prejudices and pretensions of a supposed modernism and our hollow'expert ulture' have together dictated our elopment dogmas. A pragmatic is of tradition and the technology caused far less impoverishment of ovators and pundits wax eloquent ledge and learning, and tell us that ;reat place in our cultural ethos. Well, i silently reminds us that unparalleled Join like the Thirukkurai were written iay be ridiculous to suggest that we go ng on palmyrah leaves, but it is ignowe that we cannot balance modernity and tradition. A wise course lies somewhere in between.
Related Content