How the west, east and the rest of the country is being won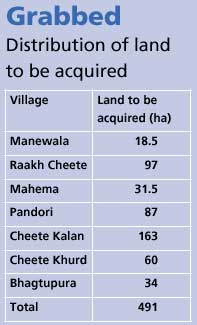 Punjab: "I don't know anything except farming,' says Preetam Singh. He doesn't even know how many generations before him have been tilling the same land. He has 5 acres (2 ha) now. Singh and his family's livelihood comes from vegetable and dairy farming. He keeps repeating he can't do anything else.

Preetam Singh is one of the 1,500 landholders of seven villages in Amritsar district who were served a notification for land acquisition on August 17. Since then, the farmers have been wary of strangers. Singh mistook this Down To Earth reporter for an official and kept pleading for his land.

The land across the seven villages is very fertile. "This is the vegetable belt of Punjab and we get up to three crops in a year,' says Hundal.Growing mostly potatoes and peas on the irrigated land, the farmers manage to earn up to Rs 1 lakh from each acre annually and most farmers have holdings between one and five acres. "Our crop is sold not only in Punjab but also goes up to Srinagar and Himachal,' says Karaj Singh Jeete. The suburbs of nearby Amritsar town are dotted with cold storages, where these vegetables are housed on their way to diverse destinations.




But cultivation is not the only reason they depend on the land. Every farmer here has about 10 cows or buffaloes. Earnings from agriculture are supplemented by dairy farming. "For every Rs 30 we spend on a cow, we earn Rs 100. We easily earn Rs 3,000-4,000 from each cow every month,' says Jeete. The fodder and feed for these cows and buffaloes comes from the same land. But the role of dairy farming in this area is not limited only to the landholders. About 40 per cent of the population in these villages comprises landless labourers, each of whom have a couple of cows. "The farm workers are paid Rs 100-150 per day. But more than half their earning comes from selling milk. And they buy the fodder for the animals from us,' says Hundal.

Scenarios like these have brought about nationwide unity. Nine farmers' groups have united to protest against SEZs. "It is not just this project. The state has forcibly acquired 376 acres (152 ha) for the Trident Group. Even though a hundred farmers have not yet received compensation, the perimeter wall has been built and construction started,' says Sukhdev Singh Kokri Kalan, general secretary, Bharatiya Kisan Union.

"What happened to the industrial township in Goindwal Sahib set up in 1986? About 2,200 acres (890 ha) of agricultural land were taken and now it's vacant. Why can't that be given for the SEZ?' asks Hundal. All Preetam Singh can say, however, is: "I can't watch the fields I have tilled with my hands for so long get bulldozed.'

West Bengal: It's been four months since the villagers of Singur block, Hooghly district, have either eaten or slept peacefully. That's when it first hit them that they might soon have to give up their farmlands to make way for the Tatas' proposed Rs 1,000-crore small car plant, over 1,013 acres (410 ha). The project will displace about 20,000 people, including marginal farmers, agricultural labourers and unregistered sharecroppers.

Though the Tata project has not been designated an SEZ, it has all the hallmarks of the follies implicit in the creation of enclaves.

"Such fertile land,' says Joydeb Das, of Beraberi village. "If this is taken from us won't we go mad?' he asks. Das and several other villagers say they won't accept compensation if they are forcibly evicted. Earlier in the year, the state government had issued a prohibitory order restricting farmers from cultivation. But most villagers flouted the order and continued farming.

The land here is largely multicropped, with two harvests of paddy, one of vegetables and one potato crop. Yet, on paper most of the land is registered as monocropped, which makes it easier for the government to acquire. Government officials say they will survey the land again once things have quietened down and adjust payments where land is found to be multicropped.

However, despite continued protests against the proposed plant by political parties, land rights groups, the intelligentsia and the villagers, many have sold their lands. Some (mostly absentee landowners) for the money (the government if offering Rs 8 to 11 lakh per acre), some because they are CPI supporters and can't defy the party's diktats, and others because they have no viable option. But those who have sold out face ostracisation and reprisals from their neighbours. Outsiders are suspect. "Let's see if Tata can take my land from me. If it comes to that we can even kill,' said a farmer, brandishing a sickle. "What can they do? At worst, they can kill us. We are ready for that.'

As of October 13, the Singur block office had acquired 711.58 acres (288 ha) of the required land from the 3,750 listed landowners. Five banks that have set up camp offices within the block office compound had, between them, collected close to Rs 14 crore in new accounts.

The location is perfect for the Tatas. The site is flanked by three highways and two rail lines, and is only an hour's drive from Kolkata. The Tatas refuse to relocate and the state is willing to humour them.

But the villagers are not ready to give up yet. Several thousand farmers have so far taken out marches, made representations to the state and central governments and not lit their kitchen fires for days as a mark of protest. Now, they say, they'll squat on the land when state officials come to take actual possession.

Basudeb Das, a farmer who lives off his four-bigha (approximately a quarter of a hectare) plot says, "This is no democracy. This is like kicking us in our stomachs.'
Related Content