Environment Policy of NHPC Released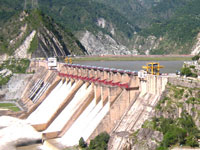 Environment Policy of NHPC has been released on 8th June 2016 by Shri K.M. Singh, Chairman & Managing Director, NHPC in presence of Shri R.S. Mina, Director (Personnel), Shri Jayant Kumar, Director (Finance), Shri Balraj Joshi, Director (Technical), Shri Ved Prakash, CVO & other senior officers of NHPC. To mark the occasion, CMD, Directors and CVO planted trees in the NHPC Office campus.

While releasing the Environment Policy, CMD expressed that the Policy will help not only in institutionalizing but also in internalizing the environmental ethics in our routine works and he hoped that over the time it will become our habit to take care of environmental & social issues from the planning stage itself. With enforcement of Environment Policy across the NHPC, there will be definite increase in credibility of the company amongst the stakeholders as an environmentally conscious organization. He congratulated Environment & Diversity Management Division for timely action and appealed everyone to come forward to the cause of environment protection.

Shri Balraj Joshi, Director (Technical) in his address mentioned that NHPC should take every possible step to minimize the impact on Environment by our activities. He also opined that although Environment Policy is NHPC's commitment to sustainable development, it is very important for each one of us to make a conscious effort and contribute in achieving the goal envisaged in the Policy.

Shri A. K. Mishra, Executive Director (Env. & DM) in his welcome address explained the need of this Policy and he expressed that more than the requirement of MoEF, it is in the best interest of corporation as well as concerned officers to have a system in place for ensuring compliance to environmental laws and stipulations given at the time of according Environment Forest & Wildlife Clearances. A power-point presentation about Environment Policy was also given by Shri Vipin Kumar, Chief In-charge (Env.). The programme was attended by the Executive Directors, General Managers and other senior officers of NHPC.