Namibia, Angola oppose hydro power plant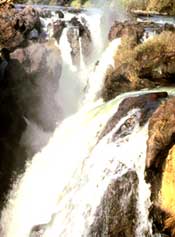 The Namibian and Angolan governments have decided to revive construction plans of a controversial hydropower project on the river Kunene (Cunene River) in northwest Namibia. The Epupa Dam, proposed by the Namibian government, was halted eight years back following an international outcry that the dam might threaten the local ecosystem and thereby the economic basis of the region's semi-nomadic Ovahimba ethnic group.

The proposed dam is to feed a 500- mw hydroelectric plant so that Namibia can meet its growing power needs; the country is currently dependent on South Africa for about half its power consumption. According to an anti-dam lobby group, the International River Network (irn), California, Epupa Dam might flood 250 sq km of the Ovahimba's pastures, cultural sites and ancestral graves. irn has suggested tapping other renewable energy resources to meet the country's energy demands.