Home run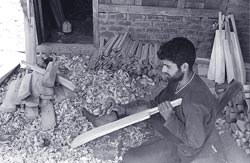 going in to bat for the indigenous industry, the Jammu and Kashmir (j&k) government has decided to ban the export of willow cleft outside the state. The much-awaited move is set to put local manufacturers of cricket bats on a strong wicket. Over the years, the local manufacturers had lost out to competitors based in cities such as Jalandhar (Punjab) and Meerut (Uttar Pradesh), who thrived on imports of willow from Kashmir.

"In one stroke, the government has paved the way for the employment of 8000 people,' claims Nazir Ahmad Saloora, secretary, Jammu and Kashmir Sports Goods Manufacturing Association. The ban is a part of the state's new forest management policy which envisages greater involvement of local people to increase green cover.

The fresh measures were announced in the j&k legislative assembly by the state's forest and environment minister, Ghulam Mohidin Sofi. Divulging more details, he said that those who would provide timely information about smuggling in forests will be awarded 10-15 per cent of the total cost of the seized timber. Thirty-two forest development agencies will also be set up under the National Afforestation Programme. "A part of the revenue from selling produce such as medicinal plants, grass and fodder from the concerned area would be spent on the development of nearby habitations,' revealed Sofi.

In addition to these steps, the forest department's budget has been increased from Rs 8 crore to Rs 10 crore. The State Pollution Control Board, too, has been given more teeth and its recommendations made obligatory.

"All these schemes have been formulated to save the fragile environment of the state,' points out P Patnaik, principal chief conservator of forests, j&k. Alarmingly, the past decade has seen more than 1,30,000 full-grown trees being illegally felled in the state.
Related Content