Meerut s bane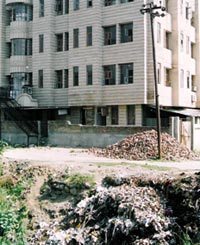 the Allahabad High Court (hc) has issued notices to top officials of the Union and state governments regarding mismanagement of hospital waste at Meerut in Uttar Pradesh (up). The court's action came in response to a public interest litigation (pil) petition filed by Janhit Foundation, a non-governmental organisation (ngo). The authorities have to file their replies within four weeks.

The hc bench, comprising Chief Justice Tarun Chaterjee and Justice Dilip Gupta, issued notices to the secretary, Union ministry of environment and forests, principal secretaries of the health and environment departments of the up government, up Pollution Control Board (pcb), Meerut Nagar Nigam, district magistrate and chief medical officer of Meerut, Indian Medical Association and the nursing centre association. The pil alleges that there is a huge market of recycled hospital waste such as syringes, blades and bottles in the heart of the city. This is not only polluting the environment, but also leading to the incidence of diseases like hepatitis and aids, it contends.

"The petitioner society has from time to time (alerted) the authorities about the threat caused due to poor biomedical waste management. Unfortunately, due to the callous attitude of the authorities, nothing has been done in this (regard),' reads the pil. "The hc bench has shown a keen interest in the case and, on its own initiative, included nursing homes as one of the respondents, as it wants to fix responsibility,' says Anil Rana, director, Janhit Foundation. The petition has demanded a time-frame from medical institutions to put in place their respective systems for managing their wastes. It also wants the licence of an institution to be cancelled in case of any violation.

No medical institution in Meerut is following the notification of the Bio-Medical Waste (Management and Handling) Rules, 1998. "There are 14 drains in the city and medical institutions throw their wastes in them. Wastes like syringes and bottles, which can be recycled, are picked up by rag pickers and re-enter the market as cheaper products,' points out Rana. Down To Earth 's efforts to elicit a response from P K Agarwal, regional officer, uppcb, Meerut, proved futile. Meanwhile, the people of Muzaffarnagar are also planning to file a similar pil in the hc.
Related Content