Uttarakhand tribal community bound to bonded labour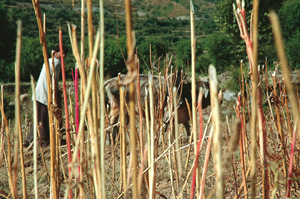 Kundan Lal and his master struck a deal. Lal, the master agreed, could go home to see his ailing wife in Dehradun's Bhatad village. In exchange, he demanded the services of Lal's son and daughter-in-law. Lal explains that someone has to compensate for his absence at his malik's (master's) field.

Lal is a mazdoor (labourer). The malik-mazdoor relationship was sealed when Lal had to borrow money for his son's wedding ceremony. Once the festivities were over, he had to fulfil his part of the deal. That meant working at his master's fields in Rangyon village, about 18 km from Bhatad. Lal was under no illusion: the principal, he knew, could never be paid off. Except, he explains, "if I found another sahukar (money lender)'. But Lal has made his peace. "At least this master does not beat me up,' he says.

Lal is from the Kolta community from Dehradun's Jaunsar Bawar area. Koltas have traditionally been recorded as bonded labourers.They are believed to be autochthonous residents of the area who were dominated by immigrants and bracketed as a low caste. According to a 2002 report by activists Kunwar Prasun and Sunil Kainthola, the social system which barred the Koltas from owning land or entering temples was legalised in the nineteenth century. The system, however, allowed the Kotlas to borrow money from the local moneylenders. Landless and assetless, the community fell into a debt trap (see box: Road to debt).
Figure this out In Jaunsar Bawar, "there are approximately a thousand families which depend on bonded labour,' estimates Anmol Jain who recently conducted a study for the International Labour Organization. Kripa Ram Bhatt, secretary of Prakriya, a small ngo working in the region, puts the number of such families at 1,500-2,000.

The state government does not have figures but even it admits that bonded labour continues decades after being officially eradicated. An Uttarakhand government labour official who did not want to be named told this reporter that a survey was conducted in 2002-03 to ascertain the numbers of bonded labourers in Jaunsar and their condition. The report was forwarded to the state's revenue department in 2003 and has not been heard of since. "As per the law, such a report has to be approved by the revenue department within a month, so that release and rehabilitation can begin at the earliest,' says the official.
No escape Once a Kolta borrows money, he spends the first few years working for the sahukar to pay back the interest. Till then there is no pay, though meals are usually provided. After that, he starts to work towards settling the actual amount. There are provisions for two sick leaves a month on an average, but the rest are working days. "I get Rs 300 a month for my work, but if I take a day off when the malik doesn't want me to, he deducts Rs 100 for each day,' says Chander Kumar, a bonded labour.

If the amount in question is large, more than one member in a family is required to work. And if the original borrower dies without paying back, another family member replaces him. A wife can replace a dead husband, and the debt usually passes from one generation to another. There have been cases where debtors escaped to towns, but they almost always landed back in the village. "What will they do in the city other than labour?' asks Kundan Lal. "If I escape, my family will be made to work. Besides, it takes money to leave too. And if the malik decides to catch you, you have to pay for all his expenses also,' he adds.

Steps to nowhere The Bonded Labour System (Abolition) Act came into force in 1976. Over the next few years more than 8,000 labourers were identified and released in Dehradun district.They were given money and provided with livestock.
Kainthola reports that Rs 55 million was spent on the rehabilitation projects. Additionally, Jaunsar Bawar is a