Villagers march to revive the Meghal river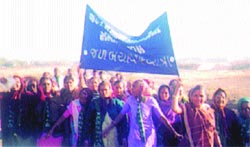 Even as citypeople all over India were finalising their Christmas party-hopping plans, a celebration of a very different kind galvanised Junagadh district, Gujarat. From December 23 to 26, 2002, thousands of villagers from villages in Keshod, Maliya, Memdarda and Mangrol talukas went on a padayatra (footmarch). Their mission? Sensitising and motivating people to pitch in and revive the river Meghal, lifeline of the area. Their chant? "Boond boond paani ko bachana hai, Meghal ko naya jeevan dena hai " (Let's save every drop of water, let's give the Meghal new life).

The 70 kilometre (km) yatra was organised by the Aga Khan Rural Support Programme (India) (akrspi), a non-governmental organisation (ngo) working in the district for more than 15 years."Besides raising awareness on water conservation and management, we wanted to develop a strategy to revive the Meghal with community participation," says Apoorva Oza, chief executive officer, akrspi. It couldn't have been timed better. Once a perennial river with a 470 sq km catchment spread across 64 villages, the Meghal and its catchment have gone dry. This has aggravated water-related problems and affected livelihoods.

Half of the padyatra took off on December 23 from the ashram of spiritual leader Keshov Kallimal Hari Bapu, of village Ajab. It meandered along Lathodaria, one of the streams that feeds the river. About 130 Ajab villagers started off to spread the message of the urgency to revive the Meghal. " Jal kranti zindabad!" the villagers chanted. Long live the water revolution! (Jal kranti is a people's movement for water recharge and harvesting initiated in Saurashtra, a district adjoining Junagarh.) They also reiterated their relation to the river. " Meghal hamari mata hai " (Meghal is our mother), was one of their slogans.

The other half took off on December 24, 2002. Another group began its march from village Babra. They followed the flow of the Kalindhri, the second stream that feeds into the river Meghal.

The yatra wound its way through villages, along both streams. Yatris (marchers) were effusively welcomed by villagers en route. The receptions were very interesting and colourful. For instance, in village Samadhiyala, ladies with 'kalash' (pot full of water) and rakhi (a sacred thread that was tied on the wrists of men to establish brotherhood) welcomed the yatris.

Meetings were organised in every village to discuss various aspects of water management. These were attended not only by villagers, but also by village-level authorities, such as Gram Sabha members. An informal march, when it reached a village, would often transform into formal discussions about water harvesting. S hamjibhai Antala - a pioneer in well-recharging from Saurashtra - moved with the yatra and motivated the villagers by narrating his experiences. Addressing a meeting in village Nani Dhanej, Asokbhai Sekhar, a member of Jal Kranti Abhiyan, Ajab, said "We wanted to share our experiences of how we could manage water with the inspiration from Khopala, blessings, and akrspi's support and guidance." He urged the villagers to wake up to revive the Meghal river, for the sake of future generations. Debuben Manandbhai Jelu, the sarpanch of Ajab, also shared experiences.

It wasn't an accident that Ajab villagers played a crucial role throughout the programme. All through the yatra, a number of villages were talked about and held up as models. Three villages were projected as models throught the yatra - Ajab in Junagadh district, Khopala in Bhavnagar and Raj Samadhiyala in Rajkot district. All of them have been successfully harvesting rainwater. In Khopala, work began in 1998 and was completed in a record time of six months. During the first rains in 1999, the check dams were full and the wells got recharged. Mathur Bhai Savani, founder of Saurashtra Jal Dhara Trust, an ngo that initiated the movement in Khopala, played a key role. Raj Samadhiyala, under the able leadership of Hardev Singh Jadeja, had registered remarkable progress due to water conservation activities started as early as 1985. The success of water harvesting in these villages was repeatedly discussed throughout the yatra.

Another highlight was how diversified the yatris were. Kids joined in, as well as old people. A group of more than 100 women led by Debubehn, singing traditional folk lores on Meghal, was an amazing sight. Said 75 year-old Meeni Behn from Babra, "People told me about some yatra related to water. When I saw them walking I also joined. This is to save villages. I enjoyed walking". "I am delighted to see the participation of women," said Antala. He also hoped that the diversified participation would help in achieving the target easily.
Converging
The yatras along the two streams converged at Khorasa, where the two streams fall into the Meghal. It was the perfect place to generate enthusiasm. Popular local social activists such as Mathur Bhai Savani and Deepak Mehta, along with Apoorva Oza and members of the Jal Kranti Abhiyan, addressed a gathering of the two sets of yatris. "Let me congratulate the yatris for their commitment and for realising the importance of addressing water problems to bring about village development," said Savani. He also offered support to the initiative to revive Meghal.

Jasubapa, a 65-year-old retired teacher from Ajab, took a vow to renounce ghee (clarified butter) and sweets till Meghal was revived. This motivated other villagers to take an oath not to rest till their dream was fulfilled. Hiren Chotua, a class six student of Veravel public school, stood up and reminded the gathering, " Padayatra ends here but let's teach others to conserve water." "The yatra helped us to identify the committed people from different villages who would work for this cause," said Ajit Jadav of akrspi.

The concluding day began ceremoniously with a pooja of the Meghal river and finally reached Chorwad via Gadu. Covering 23 villages in 4 days, the yatra culminated with a meeting in the premises of the Jund Bhavani Temple, where the river falls into the Arabian Sea. Here stream-based committees were formed, with representatives from villages in the basin region of a particular stream. These committees were empowered to decide the strategy villages would adopt.

The success, however, lies in proper coordination between these committees and developing a consensual strategy to achieve the goal. The challenge would also be in translating these strategies into concrete action at the ground level. Since the project would involve huge sums of funds, it would also be a challenge to have a strict mechanism to manage the money.

But the celebration was a huge one, undoubtedly. Completely public.

(see also: Controversial plan to sell water from Sheonath river)
Related Content