Wallpapers, ringtones of endangered species gain popularity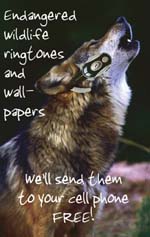 Mobile phone wallpapers and ringtones of endangered species are becoming popular among cell phone users. The images and sounds, introduced in December 2006 by us-based Center for Biological Diversity (cbd), are available for free download on www.rareearthtones.org.

The initiative has already found many takers, with more than 60,000 people in over 50 countries using them. The website features free ringtones and photos of more than 50 rare and endangered animals from around the world. The hoots of over two dozen rare owl species are courtesy of the us-based Global Owl Project, an initiative to identify and conserve the planet's owls.

"The most popular ringtones are of the orca and Mexican grey wolf, with more than 10,000 downloads each so far,' said Peter Galvin, conservation director of cbd.He hopes the attempt will sensitise mobile phone users to the need for preserving biodiversity.

The ringtones have already been featured in the media, including abc News, cnn and the Fox News.