Status change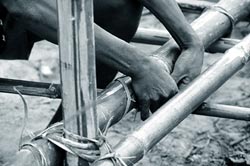 two major developments are about to take place in the bamboo sector. The Union ministry of agriculture (moa) is set to notify bamboo as a horticultural product, and the Seventh World Bamboo Congress will be held in New Delhi from February 27 to March 4.

Almost a year ago, the Union government, through the National Mission on Bamboo Technology and Trade Development, revealed its plans to develop bamboo resources for industries and trade. The thrust had come directly from the prime minister's office and the Planning Commission.

Classifying bamboo as an agricultural product would be an important step for promoting it, says H P Singh, an ex-horticulture commissioner in the moa. Singh is a member of the steering committee that is driving policy-level changes in the sector. The panel also includes Tinoo Joshi, development commissioner (handicrafts), Union ministry of textiles, and Ratin Mandal, adviser to the Planning Commission.

Communities living near forests currently face problems in transporting bamboo because the states' forest departments either categorise it as timber or as a minor forest produce. This, despite the Supreme Court's ruling in 1996 that bamboo shouldn't be classified as timber, points out Sushanto Mittra, adviser to the mission. "Forest-dwellers have to pay a 14 per cent tax on bamboo at present,' he says, adding: "Once it is classified as a horticultural product, it would come under the mandi committees which charge just 2 per cent tax.'

Mandal says: "India's import of timber stands at Rs 12,000 crore, and is growing by 10 per cent each year. We want to promote bamboo as an alternative to wood-based sectors as well as for asbestos or galvanised iron sheets.' He cites the example of China, where bamboo exports amount to about us $9 billion. At present, however, the government's emphasis is on the domestic sector, he reveals. The ensuing World Bamboo Congress, which is organised once in three years by the World Bamboo Organisation, is also going to highlight India as a source for bamboo products and technology.
Related Content