No horn, please!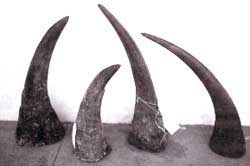 IN AN "Indian appeal" to thwart a South African proposal aimed at lifting the ban on international trade in rhino horns, nearly 250 Members of Parliament (MPs) have expressed their support to 5,800 conservationists, NGO representatives and students. The appeal for the conservation of the rhinoceros was sent to the Convention on International Trade in Endangered Species (CITES), held in mid-June at Harare, Zimbabwe. The signatories called upon the convention "to forcefully and publicly oppose any proposals or initiative for the legalisation of rhino horn trade."

Following a dramatic decline in their numbers, CITES had included rhinos in Appendix I of the Convention in 1977, denoting ban on international trade in its body parts. Ten years later, CITES called for a ban on domestic trade in rhino horn as well. However, in 1994, South Africa, which boasts a stable rhino population, could "temporarily" downlist the local southern white rhino to Appendix II, allowing controlled trade in live animals and hunting trophies, but excluding commercial export of rhino horns and other products.

South Africa now proposes to confirm the downlisting and lift the ban on exports. Critics point out that this would lead to massive laundering of rhino horns from countries other than South Africa, where the pachyderm remains threatened and its trade prohibited. Ranjit Talwar of the World Wide Fund for Nature-India, points out that enforcers worldwide cannot make out the finer distinctions between the horn of the rhino sub-species of South Africa and others. "Indian ivory was banned but a lot of it was laundered and sold as African ivory. Ban on African ivory came later," explains Talwar.

The saviours
Two high-profile former Union ministers played an important role in mobilising the legislators to sign the Indian appeal, according to Tiger Link, a 600-member Indian network of "concerned people and organisations to save the Tiger". "Between Maneka Gandhi and Karan Singh, they could manage the MPs" signatures," commented Valmik Thapar, head of the Delhi-based Ranthambhore Foundation. The foundation coordinates Tiger Link"s activities along with the Tiger Action Cell.

Maneka Gandhi, who champions the cause of animals ranging from domestic cats to tigers, nonchalantly explained her role the Roman way: "I went to Parliament, asked for the signatures, and they signed." She claimed that the Environmental Investigation Agency (EIA), a hard-line conservation group based in London, gave her the papers to be signed. Interestingly, Gandhi denied that Karan Singh had anything to do with it.

The MPs, cutting across party lines and of all political hues, signed the appeal. "From Najma Heptullah to A B Vajpayee," as Thapar put it. Signatories also include Pranab Mukherjee, deputy chairperson of the Planning Commission; Santosh Mohan Deb, chief whip of the Congress party, and Jagmohan, former lieutenant governor of Delhi.

However, many of the public figures show a lack of concern for wildlife issues. Despite repeated attempts by Down To Earth, Karan Singh or Najma Heptullah did not bother to explain the topical relevance of trade in rhino horn in India, or why they signed the international appeal. Matang Singh, Rajya Sabha MP from Assam, even wondered if his name was in the appeal. "Karan Singh gave it. It was something regarding wildlife trade. They made me sign," he finally recollected. Chief minister of Assam, Prafulla Kumar Mahanta, who was in Delhi on a tour, confirmed through his information officer that he had written to the South African president regarding rhino trade. However, he could not recall the text of his message.

What"s in a horn?
The rhino horn is believed by many to have aphrodisiac qualities. It is also used as an ingredient in certain traditional medicinal concoctions and as a handle for the famed Yemeni dagger. It is a hard, cemented mass of hairs about 20-cm-long and weighing 720 gm on an average. Sold clandestinely, it can fetch up to US $3,000 a piece on site, according to TRAFFIC-India network, an NGO monitoring trade in wildlife.

The cause for India"s concern is that it is home to 70 to 80 per cent of the world"s remaining Asian one-horned rhinos. The Asian rhino horn, considered much stronger, can cost as much as 20 times that of the African rhino horn in the international black market; up to US $60,025 per kg - the costliest horn of all the five varieties of rhino, according to Under Siege: Poaching and Protection of Greater One-Horned Rhino in India, a 1996 publication by TRAFFIC- India network. It adds that 209 rhinos were poached between 1990 and 1993 in India.

S Debroy, former inspector general of forests, said that in India, there is rampant poaching of rhinos in Kaziranga National Park, Assam, which is home to about 1,200 rhinos, 81 per cent of the pachyderms left in India. He said any relaxation in international trade laws would only encourage the poachers.

Under Siege quotes a 1991 study that estimates that the lucrative export trade accounted for the killing of at least 489 rhinos in the 1980s. Pressurised by the EIA, the campaign against trade in rhino horns gained momentum in April this year. Tiger Link also swung into action. "The response was quite good," says Joanna Van Gruisen, spokesperson for Tiger Link and a wildlife photographer who sent signed letters soliciting signatures by the hundreds.

As regards the "Indian appeal", apart from the MPs, several members of state legislative assemblies also signed the plea, says Thapar. Over 2,000 signatures were collected by an activist named Ajit Chanakya in Madhya Pradesh too, according to Tiger Link. Van Gruisen informed that copies of the signatures were sent to the South African president Nelson Mandela, and the CITES secretariat and authorities worldwide.
Related Content